Hospice: Three Themes Driving Strong M&A Activity and a Sneak Peek at New Research from TripleTree
Hospice care has played an important role in the U.S. healthcare system since first appearing on the scene in 1974. By definition, hospice provides expert medical care, pain management and emotional and spiritual support expressly tailored to the needs and wishes of the patient and their families at the end of life. A rapidly aging population, growing awareness and appreciation of hospice services, and increasing utilization of the Medicare hospice benefit have fueled this once small piece of the healthcare landscape into a nearly $19 billion industry, with more than 6,600 programs meeting the needs of more than 1.7 million people annually.
The hospice market's consistently strong growth over the last several years has been accompanied by an acceleration of M&A volume, with three common market themes underlying many of the transactions:
Increased Focus on Post-Acute Care: The need for cost-effective treatment solutions is propelling the transition of treatment of higher acuity conditions into lower cost settings such as the home and outpatient settings. Additionally, families and patients are choosing to prioritize comfort and independence when selecting treatment options, both of which are prominent in home-based settings. An increasing prevalence of chronic conditions worldwide has also fueled a demand for patient-centric models that minimize costs and maximize outcomes.
Diversification of Post-Acute Service Line Offerings: In November 2014, HealthSouth, an inpatient rehabilitation provider, announced the acquisition of Encompass Home Health & Hospice. With a $900 million price tag, the acquisition represented a significant diversification move for HealthSouth, which views home health and hospice as highly complementary to its core offering. According to HealthSouth, at the time of the acquisition announcement, HealthSouth's inpatient rehabilitation facilities (IRF) discharged approximately 72,000 patients per year to home health, but less than 5% went to either a HealthSouth or Encompass home health agency. As such, the acquisition represents a compelling opportunity to offer HealthSouth IRF patients who are discharged to a SNF a more cost-effective alternative. Additionally, Encompass provides HealthSouth the capabilities to participate in integrated delivery and value-based payment models.
Geographic Expansion and Economies of Scale: Many of the smaller transactions in the hospice marketplace are driven by local / regional players combining to expand customer footprints, move into new geographies and benefit from the enhanced profitability that can be achieved with increased scale. At the national level, Kindred Healthcare's $1.8 billion acquisition of Gentiva Health Services added significantly to Kindred's already impressive scale in the hospice space, making the Company the largest and most geographically diversified home health / hospice provider and enhancing the Company's cost structure.


Despite the strong M&A volume, the hospice industry remains highly fragmented with the market's two largest players, VITAS (owned by Chemed Corp.) and Gentiva (owned by Kindred Healthcare), combining to account for just 10% of total industry revenue. The remainder of the market is composed of smaller community-based organizations and non- profits. As such, we expect the strong M&A activity from industry constituents, new market entrants, healthcare providers in adjacent markets and the professional investment community to continue as hospice continues to play a greater role in the U.S. healthcare system.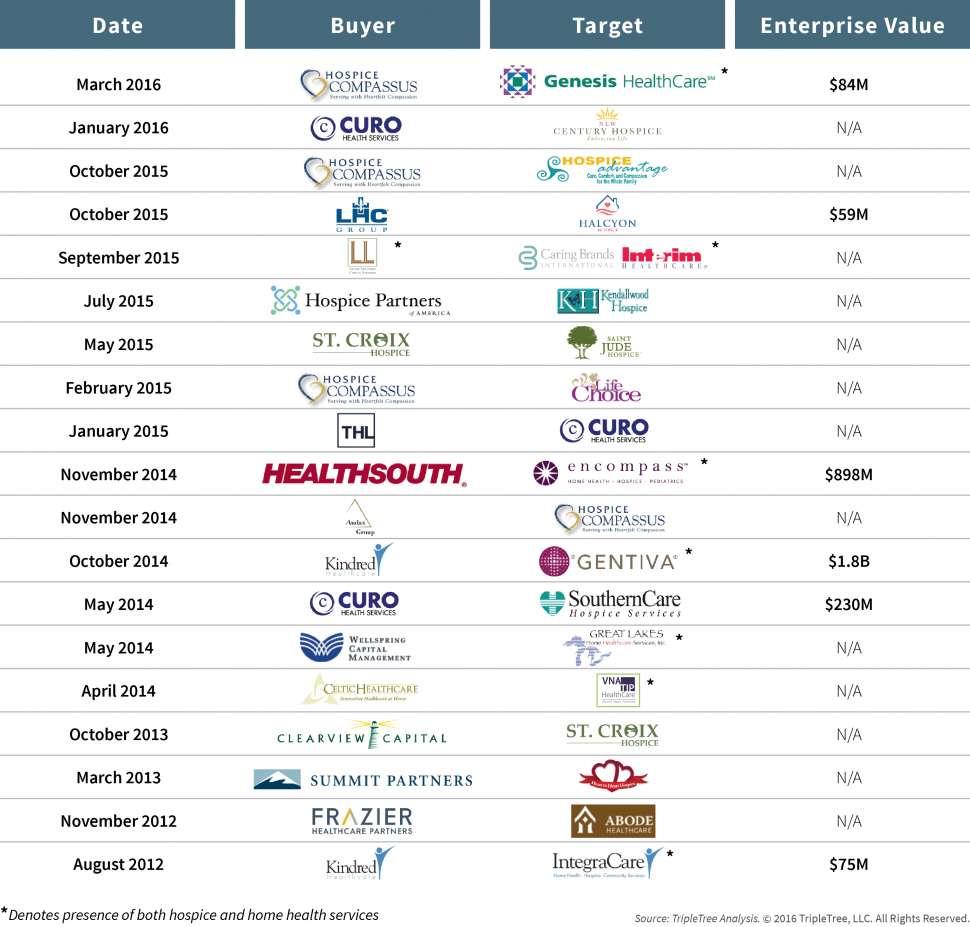 Today, the hospice industry is at an important inflection point, balancing ongoing transformation and increased consumer demand from a rapidly aging population. The juxtaposition of these market forces creates an ideal backdrop for ongoing industry innovation, consolidation and investment in the years ahead.
Stay tuned for our upcoming research on Hospice in the coming weeks. In the meantime, let us know what you think.