Healthcare Services Insights
Knock. Knock. It's Time for Healthcare at Home
2020 has been a year of significant change within the post-acute market. While this sector continues to benefit from the aging of the U.S. population and a growing desire for patients to receive care in their own home, post-acute providers have been forced to adapt to the most sweeping home health reimbursement change in 20 years while also developing new care protocols to deliver quality care remotely through the pandemic.

In the next installment of TripleTree's Market Insights LIVE, TripleTree professionals and industry leaders from Abode Healthcare, AccentCare, and ATI Advisory will share in-depth perspectives on the state of the post-acute industry. In advance of this important discussion, here's a preview of the forces shaping the industry.

Post-Acute Care Delivery in the Midst of COVID-19
Post-Acute providers were forced to make significant changes to their care delivery protocols in response to the pandemic. At the onset, patient volumes from referral sources suffered in part due to a pause in most elective procedures. Additionally, demand for personal protective equipment led to higher costs for these items. In response to the pandemic, providers created new protocols to ensure that care could continue to be provided in a safe manner for both patients and clinicians. In response to loosened restrictions on the use of telehealth by the Centers for Medicare & Medicaid Services (CMS), providers quickly put procedures into place to deliver care remotely where it could be done so with minimal effect to patient care.

Notable changes instituted by CMS include:
Telehealth visits can be made in place of an in-person home health visit provided the telehealth visit isn't used to cross the low utilization reimbursement threshold
Face-to-face home health and hospice recertifications can occur through telehealth by either a physician or nurse practitioner
Hospice providers can include technology costs in their cost reports
In many ways the pandemic has solidified the home as the preferred setting of care delivery among post-acute constituents (patients, providers, and referral sources) as the transmission risks of COVID-19 are significantly reduced relative to care settings where a greater number of patients receive care in close proximity.

Additional topics for discussion will include:
How have daily clinical protocols changed because of COVID-19 and how do you think COVID-19 will change the home health and hospice industry for the years to come?
How has COVID-19 changed the way hospitals view the importance of the home as a clinical setting?
How are you thinking about service delivery mix between telemedicine and in-person visits going forward?
What are your major observations in the skilled nursing market as it relates to COVID-19 and how do you think that is impacting home health and hospice providers?
Is there an opportunity for telehealth services to be reimbursed for home health services going forward? How about within hospice?
What is driving the recent uptick in consolidation and investment in home healthcare? What's ahead in the next 12-18 months?
Adapting to New Reimbursement Environments
In addition to the unforeseen challenge in delivering services in the midst of COVID-19, home health providers are facing a brand-new reimbursement paradigm. The Patient Driven Groupings Model (PDGM), which went live on January 1st of this year, represents the most significant change in reimbursement since the advent of the Prospective Payment System in 2000. The intention of the change was to create a more comprehensive set of clinical groupings to align reimbursement with patient acuity.

Some of the key changes include:
Request for Anticipated Payment (RAP) Reduction and Eventual Elimination: The up-front payment made at the start of care has been reduced from 60% of the total payment to 20% and will eventually be phased out completely. This change puts strain on smaller providers who rely on the up-front cash flow to support operations
Episode of Care Duration Change: Episodes of care have been reduced from 60 days to 30 days
Admission Source: The source of a home health admission (Institutional or Community) is now a factor in reimbursement
Therapy: Therapy visits / volume is no longer a direct factor in reimbursement
Behavioral Adjustment: Regulators, assuming that providers would "upcode" patients to optimize reimbursement, created a -4.36% adjustment to offset anticipated upcoding
LUPA Threshold: LUPAs can be 2 – 6 visits (previously 4) depending on Clinical Grouping. Visit threshold at 10th percentile in payment group or 2, whichever is higher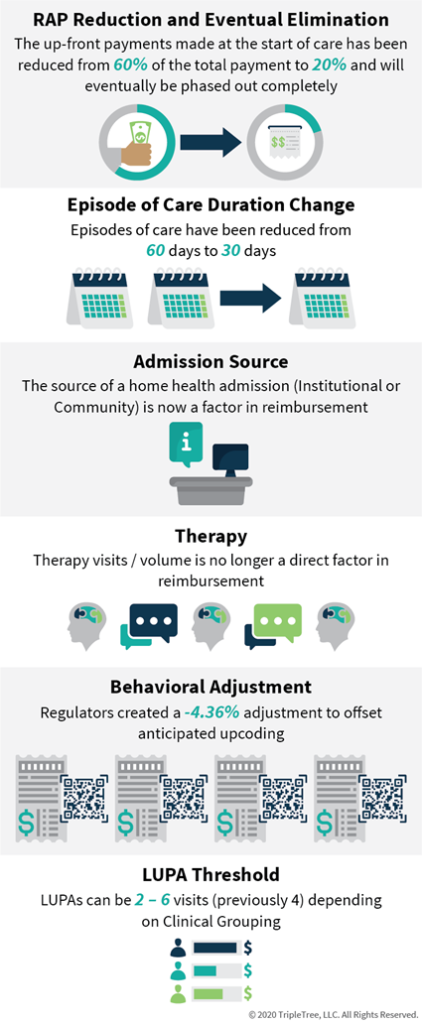 Since the initial proposal of PDGM (initially referred to as the Home Health Groupings Model), industry players expected the reimbursement change to create a significant consolidation opportunity as smaller players struggled to adapt to the reimbursement changes. While M&A in the home health space has recently begun to tick back up, the expected M&A boom has yet to materialize. This has been largely attributable to provider operational changes as a result of PDGM, alongside the various support measures put into place in response to COVID-19, including the Paycheck Protection Program, the Accelerated and Advance Payment Program, the Medicare Sequestration Holiday, and the CARES Act Provider Relief Fund, which have allowed smaller players to weather the reimbursement changes thus far.

Additional topics for discussion will include:
What initiatives did you put into place leading up to go-live of PDGM? How has PDGM played out in 2020 relative to your expectations?
How did the roll-out of PDGM go? What about the roll-out of the Review Choice Demonstration? What went well? What could be improved?
Reimbursement changes are also coming to Hospice, with a new CMS demonstration program beginning in 2021. Historically, when a Medicare Advantage enrollee elects hospice care the responsibility for that enrollee's care shifts to "traditional" Medicare Fee for Service (with Medicare Advantage retaining responsibility for some supplemental benefits). This has been referred to as the Medicare Advantage "hospice carve-out." In response to concerns that both overall financial accountability and care continuity are hampered under this approach, CMS is pursuing a demonstration project to "carve-in" the hospice benefit to Medicare Advantage. The demonstration program aims to evaluate performance across a handful of key metrics (length of stay, cost, etc.), overall care coordination, and patient / family satisfaction.

For 2021, nine Medicare Advantage organizations, representing 53 Medicare Advantage plans (~8% of the market), are participating in the program. The demonstration will run through 2024 and additional payers and providers can apply to join each year.

Additional topics for discussion will include:
What do you think about the proposed Medicare Advantage Hospice Carve-In and its potential impacts on payment structures, networks, cost and quality and service offerings (e.g. palliative care)?
What are your expectations for the post-acute industry as it relates to the movement toward risk-based models? Is there momentum? Where do you see opportunities?
The Home as a Clinical Setting – Rethinking the Post-Acute "Continuum of Care"
Expanding services across the "continuum of care" has long been a common strategy among post-acute providers. The goal is to serve patients as they transition through the various stages of post-acute care, whether that be in-home personal care services, skilled home health, palliative care, or hospice. However, the realization that the home is an incredibly valuable clinical setting for both patients, who prefer to receive care in their own homes, and payers, who benefit from a lower total cost of care than in other settings, has created an opportunity to broaden the continuum of care paradigm beyond traditional homecare services. This has resulted in a growing interest among post-acute constituents to pursue an in-home care ecosystem approach that provides a more holistic set of care solutions to improve health and keep seniors in their homes longer. These solutions include preventative measures (remote patient monitoring), ancillary care delivery in an in-home setting (behavioral health, hospital-at-home models), and supportive solutions (nutrition assistance, medication delivery & reconciliation, and durable medical equipment) to name a few.

Additional topics for discussion will include:
How has your company changed / developed to support the growing demand?
How do you partner with other vendors and providers to improve the access and quality of care?
What is needed to expand home healthcare, from a payer and provider perspective? What about from a regulator perspective?
What role will technology play in facilitating new services, enhancing data collection and management, and driving connectivity among all constituents, from patients to payers?
We are excited to discuss and share perspectives on these and other themes changing healthcare delivery during the next Market Insights LIVE thought leadership session – we hope you can join us! Until then, let us know what you think.

Knock. Knock. It's Time for Healthcare at Home
Tuesday, November 3 | 10:00 AM CT
Click Here to Register
 
Home Care, Home Health, Hospice, Market Insights LIVE