Healthcare Industry Perspectives
Looking Ahead to 2020 and A New Decade
As we reflect on 2019 and the past decade more broadly, we note the significant transformation we witnessed in the healthcare industry. From a regulatory standpoint, the past decade saw the passage of the Affordable Care Act, a focus on interoperability, and further expansion of private Medicare. The industry centered around the consumer, who has taken on more responsibility for the cost of healthcare and overall wellbeing. Additionally, the industry has made exciting advancements in technology, with tools being integrated directly into clinical workflows creating new opportunities and pain points alike. Consolidation continued at a rapid pace, establishing new powerhouse players that are taking a more systemic approach to healthcare. While the industry has made tremendous strides and has much to be proud of, we anticipate more changes are yet to come.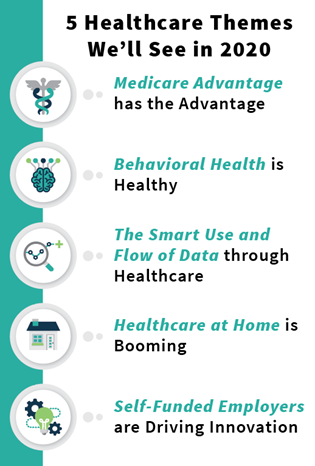 Entering an election year, we recognize that shifts in healthcare policy and priorities are inevitable and viewed as the norm in our industry. Reflecting on historical political cycles, we note that certain changes – reforms to Medicare Advantage (MA) under the Bush administration and the Affordable Care Act under the Obama administration in particular – push innovation from incumbents and new entrants alike into overdrive. We believe many of the advancements made over the past decade are primed for the next generation of innovation. Despite the noise and perceived uncertainty, we have not experienced nor do we anticipate, a significant pullback from the marketplace in the willingness to put capital to work, particularly toward platforms that have a proven ability to reduce costs, enhance quality, and improve the consumer experience.
As we enter 2020, we look ahead to a market where we expect to see continued disruption, innovation, and opportunity associated with the following themes:
Medicare Advantage has the Advantage
Over the past decade, MA plans have exploded in popularity. At the end of 2009, 10.5 million beneficiaries were enrolled in MA plans, representing 23% of total Medicare Beneficiaries. Today, that number has more than doubled to 22 million and now stands at 34% of total Medicare beneficiaries. As discussed in a previous blog, MA plans serve as one of CMS's levers for improving quality and lowering costs. The government has proven its willingness to pay for programs that work, translating into meaningful incremental benefits to members beyond those available in fee-for-service (FFS) while rewarding high performing managed care organizations (MCOs) for their performance.
Despite the continued momentum of MA, 2019 witnessed discussion and debate about the future of government-sponsored healthcare. Medicare for All and single-payer healthcare frequently made headlines as presidential candidates debated their plans for the industry. While these government-sponsored programs create the perception of uncertainty for how healthcare may be funded, our view is that even in the event of a change in administration, it is unlikely the industry will transition to a single-payer system. Further, as one of the biggest players and payers in the industry, the government often relies on the capabilities of the private sector to facilitate changes (e.g., MA, Managed Medicaid, etc.). With future growth supported by favorable demographics and a strong reimbursement environment, we expect to see continued focus and innovation in the sector from both managed care organizations and technology and services vendors.
Behavioral Health is Healthy
Behavioral health topics, including autism and the opioid crisis, were areas our firm continued to monitor throughout 2019. While significant, autism and opioid misuse represent a subset of the larger behavioral health sector that also encompasses substance abuse more broadly, numerous addictive disorders, eating disorders and other mental health disorders. The size and growth of the behavioral health industry, coupled with the recognition that enabling greater access to mental healthcare is critical to enhancing an individual's overall total health, has resulted in increased political awareness and an expansion of care and treatment options.
Despite positive momentum in the behavioral health sector, it is not without its challenges. Many geographies remain underserved and less than half of individuals with a mental health need receive treatment. Further, a recent Milliman report suggests that mental health and substance abuse coverage has actually declined. Accordingly, we see positive momentum across several sectors:
With home and community-based services already becoming a popular method for delivering effective treatment models, expect health insurers and patient and caregiver preference to continue pushing care delivery away from institutional settings
Technology infrastructure demands will increase to meet the requirements of rapidly growing care providers as they mature, and segment-specific behavioral health services will bolster demand for new provider technology solutions
Expanded access across digital health technologies and telehealth platforms
Health insurers and employers will expand efforts to acquire actionable data, seeking out new technologies to identify members/employees with behavioral health needs, enhance access to counsel, and measure impact
Behavioral health is already a meaningful part of the $3.6 trillion healthcare industry and is only projected to grow. As the stigma of behavioral health conditions continues to fade and the broader healthcare industry's focus on behavioral health intensifies, expect to see sustained efforts from the government and the private sector to drive increased awareness and further expand access to care.
The Smart Use and Flow of Data Through Healthcare
We have experienced explosive growth in healthcare data over the past decade and a desire to translate data into actionable intelligence across numerous use cases. While not a new phenomenon, we believe the industry will continue to be acutely focused on leveraging analytical capabilities as a means of reducing costs, streamlining care delivery, and ultimately driving improved outcomes. Historically, analytics were more focused on past events and reactionary in nature. Today, the industry is focusing on predictive and prescriptive analytics and making data more actionable. However, as the amount of disparate and often unstructured data continues to grow, our ability to fully leverage analytics and enable the seamless delivery of care across the continuum has yet to reach its full potential.
In order to maximize the efficacy of analytics, data interoperability has taken center stage and will continue to be a focal point of the next decade. While the capabilities from well-established industry veterans will continue to be in high-demand, we anticipate that new market entrants will join the fray – in large part because the opportunity is still so vast. One recent example of this trend is Google's entry into the market and their collaboration with Ascension to pilot a series of tools for providers aimed at making data more useful, accessible, and searchable. We are excited to watch how this partnership and others play out in 2020 and beyond in further enhancing analytics and the interoperability of data in healthcare.
Healthcare at Home is Booming
During the previous decade, care delivery has continued to transition to the home. The home has not only proven to be the most cost-effective and preferred solution, but it is also an exceptionally valuable clinical setting – providing payers and providers access to rich clinical, environmental and social conditions, and risk factors that cannot be identified in other clinical settings. Various technologies and services / solutions have emerged to enable this transition, allowing payers and providers to engage with members while empowering them to live safely and independently at home.
Further driving this shift has been the reimbursement environment, which is evolving in favor of care delivery in the home. For example, the Centers for Medicare and Medicaid Services (CMS) created three new CPT codes for the reimbursement of remote patient monitoring (RPM) services and MA plans are including RPM as a covered benefit. Further, MA plans now have more flexibility in plan design for the reimbursement of non-skilled services, such as food assistance, transportation, and adult day care.
As the population ages and the healthcare system continues to shift to a value-based environment, there will be ongoing focus on pushing treatment and care into the home in an effort to increase patient and provider satisfaction, lower cost, and provide overall higher-quality care. We ultimately believe the home will become the de facto primary site of care over the course of the next decade and are excited to continue following the sector closely.
Self-Funded Employers Seek Innovation
Costs for workplace healthcare coverage continue to rise, as the average premium paid by an employer is now around $20,000 a year for a family, increasing 5% over the past year, and up 22% since 2014. These costs are now becoming prohibitive to many small and medium-sized businesses, and employers are looking for cost containment strategies outside of passing costs on to employees. As discussed in a previous blog, large and mid-market employers have increasingly turned to self-funding strategies. Currently, 61% percent of covered workers are enrolled in plans that are either partially or completely self-funded. Self-funding strategies offer more flexibility than traditional benefit plans and we expect will continue to proliferate across all employer sizes, putting employers in the unique position as arbiters of care while allowing them to lower costs. In particular, we see companies focusing on two key strategies:
Network Management – Employers are looking to more innovative and disruptive cost containment strategies, often altering the traditional way they approached networks. Large employers are increasing their sophistication to directly contract with providers and establish centers of excellence policies. Additionally, leading third-party administrators (TPAs) are bringing direct contracting strategies to the mid-market, allowing smaller companies to establish relationships previously left for only the largest firms. Finally, referenced-based pricing is also gaining rapid adoption, with many employers demonstrating a willingness to fully replace their PPO networks in favor of various reference-based pricing strategies.
Direct Primary Care – Many companies are now offering direct primary care to their employees through near-site and on-site clinics as a way to help employees avoid unnecessary and costly care. Apple launched its onsite primary care clinics in 2018, and several others followed suite this year, such as Walmart's "Town Center" health clinic and fitness space initiative, and Amazon's primary care clinic opening in its Seattle headquarters. As this space continues to mature, we believe companies will continue to develop and strengthen their onsite care programs as a means for managing costs.
As employers continue their efforts to reign in the cost of employee health benefits, expect to see continued innovation and traction from employer-facing companies that reduce costs and improve the quality of care.

We are excited to watch progress across these themes throughout the coming year and look forward to connecting with many of you as we descend on San Francisco next week. In the meantime, let us know what you think. Wishing you a happy, healthy, and successful 2020!
behavioral health, Employers, Home Health, Medicare Advantage