Healthcare Financial Insights
Noteworthy M&A Transactions – September 2020
Deal-making continues to roar back in the wake up of pent-up M&A demand. Despite choppy data trends regarding consumer spending and a looming U.S. presidential election, investors are not hesitant to deploy capital. TripleTree has monitored robust levels of market activity for the month of September and noted three important themes from across healthcare M&A and capital markets.
Shift Towards a Digital Pharmacy Experience: The patient, pharmacy, and provider experience has historically been disjointed and convoluted. Numerous platforms have scaled up to acknowledge the shift in consumer behavior towards digital services. Seamlessly embedding into a pharmacy's workflow system, these platforms automate processes, enable data collection, power communications, and improve medication adherence. Digital Pharmacist has successfully simplified marketing and patient engagement tools while ScriptDrop offers intelligent prescription delivery through a fully integrated supply chain network. Increased revenue and profit margins can be achieved through properly investing in technology solutions.
Emphasizing Risk & Compliance Measures: Effective risk management and compliance efforts help health care organizations identify potential problems, develop protocols for investigating the failure of various controls and policies, and cross-walk the feedback loop between clinical and non-clinical workflow functions. The healthcare industry has an ever-evolving regulatory environment, posing additional compliance burdens on management efforts. Data points can be gleaned from admission records, government surveys, employee exit interviews, and individual accidents. Demonstrating consistent risk management efforts can result in operational process improvement.
Return of the Special Purpose Acquisition Company (SPAC): Accompanying the rebound in the U.S. equity markets has been the outburst in capital raising efforts by blank check companies, or special purpose acquisition companies (SPACs). 82 SPACs raised $30.2B in the third quarter, more than all regular IPOs combined. SPACs raise money by going public and then hunting for a company in which to invest the funds they raised. Financial sponsors look to bring their extensive operating and M&A experience to companies seeking a liquidity event. Potential hurdles include securing approval for a business combination and a potential dilutive overhang to public investors. MultiPlan and Clover Health highlight a crop of healthcare companies looking to go public via a SPAC. All in all, venture-backed companies with long runways for growth are showing an increased appetite for exits to a SPAC.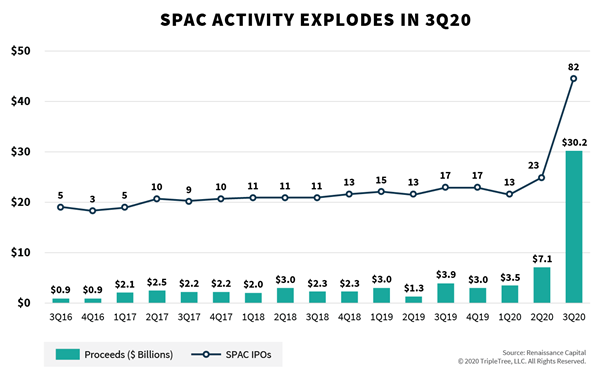 Several transactions announced in September align with these themes:
UnitedHealth Group agreed to acquire startup DivvyDose, a home-delivery pharmacy that helps patients keep track of the medicines they are taking to manage chronic conditions. DivvyDose, founded in 2015, delivers medication with clearly labeled dosage information and time and dates for consumption. This acquisition will likely be very complementary to OptumRx, one of the nation's leading pharmacy benefit managers.
TruePill secured $75M in Series C funding, led by Oak HC/FT. The company's API infrastructure sits at the intersection of digital health brands, pharmaceutical manufacturers, and health plans. The funding round will expand the company's offerings beyond telehealth connectivity and prescription fulfillment, kicking off the company's at-home lab testing efforts.
symplr, a portfolio company of Clearlake Capital and SkyKnight Capital, acquired ComplyTrack from Wolters Kluwer. symplr's governance, risk management, and compliance software-as-a-service (SaaS) platform proved to be a logical home for ComplyTrack's modular solutions. ComplyTrack will continue to help healthcare organizations address the full spectrum of healthcare labor regulatory requirements.
TrustHCS, Visionary RCM, T-System and RevCycle+ joined forces and combined under one brand – CorroHealth. The combined entity will provide a greater breath of coverage across risk adjustment, reimbursement cycles, and quality solutions, allowing clients to better navigate healthcare regulatory and compliance complexities. The Carlyle Group owns a majority stake in CorroHealth, while Cannae Holdings, Sanaka Group, and affiliates of TripleTree Holdings also participated as investors.
Hims & Hers, a proprietary telehealth platform that connects consumers to licensed healthcare professionals across numerous specialties, announced plans to sign a merger agreement with the SPAC, Oaktree Acquisition Corp. The deal is expected to raise as much as $280M for the combined company.
TripleTree and TT Capital Partners continuously monitor the market to identify the forces and themes impacting the healthcare industry. Thanks for reading and, as always, let us know what you think!
Related Blogs:


Join us for our next Market Insights LIVE session:
Knock. Knock. It's Time for Healthcare at Home 
Tuesday, November 3 | 10:00 AM CT
Click Here to Register