Healthcare Technology Insights
The Far-Reaching Impact of COVID-19 on Virtual Behavioral Health
Recently, we wrote about the new era of virtual health triggered by the coronavirus pandemic. As the pandemic continues to impact each of our lives, we hope you and your community are staying healthy in body and mind. Amidst the pandemic, individuals across the U.S. are struggling with a one-two hit from both the rapidly-spreading virus and the resulting mitigation strategies (i.e., shelter-in-place orders). The result is a far-reaching impact on our collective mental health and well-being. Feelings of isolation and loneliness, anxiety, and heightened stress have become commonplace. Furthermore, more severe behavioral health issues related to substance abuse, depression, domestic violence, and instances of post-traumatic stress are becoming more prevalent. In this second blog in our series, we aim to put a finer lens on the implications (and opportunities) the coronavirus pandemic affords behavioral health providers and the innovative virtual health-enabling capabilities that are facilitating care in this new market environment.

COVID-19 Negatively Impacting Mental Health
The coronavirus pandemic has undoubtedly impacted each of us in one way or another – individuals facing job losses, pay cuts, and furloughs; fear of a recession; fear of infection for oneself or loved ones; and fear of the unknown amidst a rapidly evolving situation. With nearly 50% of adults in America reporting that worry and stress related to the coronavirus have had a negative impact on their mental health, existing behavioral health patients and new "entrants" across the severity spectrum are utilizing behavioral health via virtual technologies.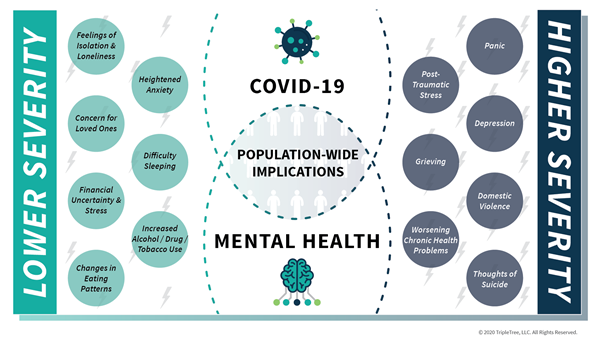 Addressing Historic Challenges in the Behavioral Health Market
As the healthcare industry adjusts to the new realities of more distanced and virtual care (versus face-to-face), this increased adoption of virtual technologies is accelerating progress against a set of challenges faced by the behavioral health market:
Behavioral Health Provider Shortages: Today, there are ~6,000 too few behavioral health providers in the U.S., and this shortage is expected to grow to a staggering 250,000 by 2030. Virtual health technologies increase the capacity of each provider to see more patients by removing geographic and other physical barriers. Certain therapies can also be delivered via virtual self-management technologies, freeing up valuable clinician time.
Barriers to Patients Seeking Care: Only 34% of individuals with a behavioral health condition seek treatment due to a combination of cost, social stigma concerns, and long wait times. Virtual health provides increased privacy, which significantly lessens social stigma barriers. In addition, the efficiency of virtual health visits results in shorter wait time (<20 minutes on average) and lower cost per session.
Physical and Mental Health Care Silos: While the health care system has had an increasing awareness over the past decade of the integral role that behavioral health plays in physical health outcomes and cost, in many cases these two domains continue to be addressed in silos. Virtual health solutions can move the industry further toward breaking down these silos by connecting physical and mental health providers in care plan deployment and collaboration, integrating behavioral health screening and referrals into primary care, and enabling collaboration with population health and care management solutions.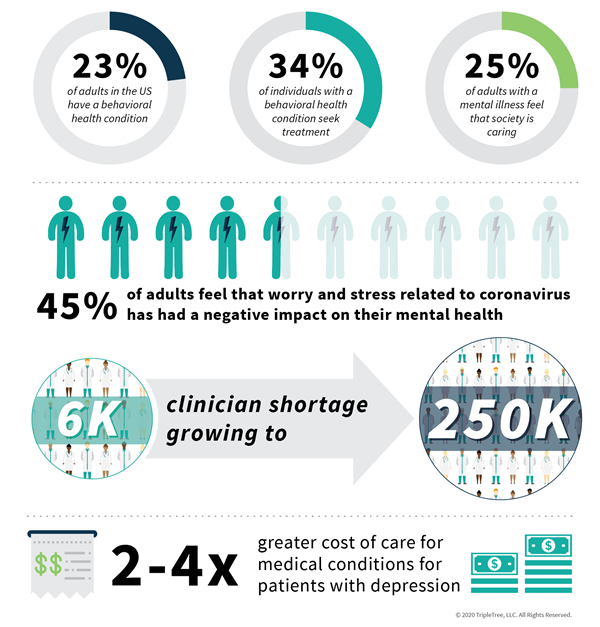 A Catalyst for Behavioral Telehealth Solutions
In a previous blog we highlighted the opportunity for increased adoption of telehealth capabilities across the behavioral health spectrum and believe the current pandemic serves as a catalyst for positive disruption. Even in these relatively early stages of managing the pandemic, we are seeing heightened adoption and integrated use of virtual health technology within established disciplines.

For instance, Cognitive Behavioral Therapy (CBT) including techniques such as talk therapy or psychotherapy represents a common use case for behavioral telehealth; its application can be used to effectively treat many common mental health disorders. Since the COVID-19 outbreak began, we've spoken with a range of outpatient behavioral health service providers that have nimbly shifted their in-person delivery models to telehealth as a means of facilitating the continuation of care for existing patients. While in-person care will undoubtedly return upon the elimination of stay-at-home and shelter-in-place restrictions, the providers we've spoken to expect to see a long-term shift towards telehealth as a percentage of total patient volume. In some cases, behavioral health providers are positioning themselves for a permanent business model change, implementing across-the-board changes to patient engagement, scheduling, IT security and privacy initiatives, compliance with state regulations, and reimbursement processes, among other things.

For those experiencing mental health issues for the first time, telehealth provides a convenient, relatively private means of accessing care. Appointments can also be arranged much more quickly with access to qualified behavioral health professionals located throughout the country. The high prospects for increased and sustained demand is supported by this ease-of-use concept coupled with far less stigma associated with seeking mental health services. Many more are seeking these services thanks to primary care referrals, word-of-mouth reference points among family and friends, and a general sense of "community" brought on by the notion that most of us are dealing with some level of impact from the coronavirus pandemic.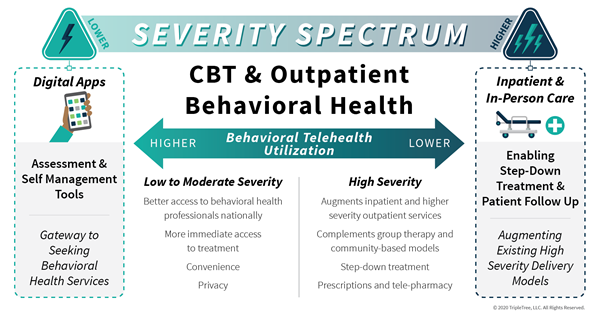 There are also technology-enabled options for those experiencing less severe mental health issues. Digital apps with DTC and/or B2B models provide evidence-based mental health assessment tools and self-management aides that improve awareness and can lead to a reduction in stress and anxiety, improve confidence, and help users sleep better at night. These solutions provide a safe, effective, and highly convenient alternative for managing periods of heightened stress. For some experiencing significantly worsening mental health, these digital tools can serve as a gateway to higher severity behavioral health support and intervention – in fact, several digital apps have triaging and referral capabilities that allow easy access to behavioral health professionals if the user is interested in escalating the type of care they are receiving. Happify's recently announced partnership with Talkspace is one such example.

In higher severity cases, behavioral telehealth can serve as a complementary tool alongside other therapies or as a step-down treatment. While telehealth isn't necessarily conducive to group therapy approaches or inpatient settings, it does play a critical role in ongoing patient monitoring, prescription writing and refills, and as a point of possible intervention for better managing comorbid conditions.

Market Realities That Could Temper Behavioral Telehealth
Despite the wave of accelerated demand and utilization of behavioral telehealth, there are certain realities that could hold the industry back from realizing its full potential:
Supply to meet the accelerated virtual health demand: A steady supply of behavioral health professionals within a given provider's network is critical to meeting the increased demand created by COVID. Meanwhile, existing clinicians with flexibility in their schedules can ramp up hours during the COVID-19 crisis.
Patient financial status: Patients struggling with a recent job loss or uncertainty surrounding their economic future may not be able to afford mental health treatment in the near-term. Even employed individuals with covered mental health benefits may deprioritize treatment due to co-pays and unmet high deductibles this early in the year.
Lack of proper education and awareness: While the stigma associated with receiving behavioral healthcare continues to abate, many individuals still may not have the awareness and education required to fully explore their options and seek out the appropriate behavioral health modality and level of care.
There are solutions to these potential issues, including patient financing; sliding-scale, needs-based fee arrangements; and establishing community support programs that foster education and awareness.  Creativity coupled with strong execution will help leading behavioral telehealth providers capitalize on the current environment and position themselves to thrive over the long-term.

TripleTree and TT Capital Partners (TTCP) are actively engaging with and monitoring hundreds of innovative companies across the behavioral telehealth landscape. We would like to thank the following companies for sharing their perspectives and providing insights to this blog: AbleTo, Acadia Healthcare, Happify, Seaside Healthcare, Sequel Youth and Family Services, Sunrise Treatment Center, Teladoc, and The Emily Program. (Happify and The Emily Program are TTCP portfolio companies). We appreciate the important work these companies are doing right now and look forward to hearing about their continued impact in weeks and months ahead as this market continues to develop.

Thanks for reading and be well! Let us know what you think.
behavioral health, virtual health