The Vital Role of Family Caregivers
Caregiving continues to be an important topic in our country, from its regulatory and financial aspects to the vital role of family caregivers. It has entered the mainstream, with financial planning companies like Prudential and Fidelity including resources for their clients, retail organizations beginning to address shopping challenges, and momentum continuing across the healthcare industry.

Since we first reported on the topic, there have been important market developments that continue to create opportunity for innovators, investors, patients and family caregivers.
Positive Regulatory Changes
Recent changes to the regulatory environment are beginning to reduce the strain felt by family caregivers. The RAISE Family Caregivers Act, passed in January 2018, tasked the Department of Health and Human Services (HHS) with developing and implementing a national strategy to recognize and support family caregivers. Additionally, Medicare Advantage began offering new benefits specifically for family caregivers in 2019, including resources and support for respite care, skills training, and counseling services. These regulatory advances are likely to serve as a foundation for future legislation and Centers for Medicare & Medicaid Services (CMS) policy designed to further reduce the burden felt by family caregivers.
The Growing Challenge (and Opportunity) of Family Caregiving
The responsibility of providing regular care for a loved one can take a toll on family caregivers over time. While most unpaid/family caregivers report feeling a level of satisfaction in their duties (88% of people providing care to their parent feel that the experience is rewarding), many unpaid/family caregivers sacrifice their own wellbeing in order to support their loved one. Family caregivers can feel the impact across three important dimensions: financial, emotional, and professional.
Financial impact
~78% of unpaid caregivers incur personal out of pocket expenses related to care (~$7k annually, on average) (Source)
~35% have cut back on personal spending to cover caregiving needs (Source)
~30% dip into personal savings to support caregiving costs (Source)
Emotional impact
~38% of unpaid/family caregivers report that caregiving is highly stressful (Source)
An estimated 40-70% of family caregivers have clinically significant symptoms of depression (Source)
Over half reported that caregiving prevents them from spending time with friends/family
Professional impact

Adjusted working habits (see graphic)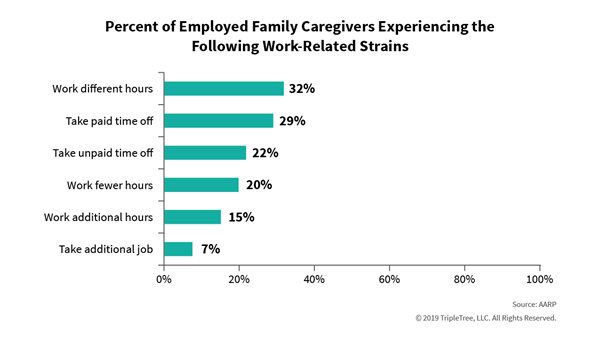 Over 80% of employees with caregiving responsibilities report that caregiving influences their productivity (Source)
Over half of US employees believe that individuals with caregiving responsibilities are less likely to progress in their careers at the same rate as their peers (Source)
The impact of unpaid/family caregiving is not just limited to the individuals providing the care. Rather, unpaid caregiving creates a ripple effect that spreads throughout various aspects of each individual caregiver's life. Children and spouses of Sandwich Generation members may receive less support and attention due to the stresses and needs of caregiving responsibilities. Employers of family caregivers must contend with absenteeism, when an employee takes off work to care for a loved one, as well as presenteeism, when an employee is distracted at work due to the stress and worry of caregiving responsibilities. Eventually, the stress on family caregivers can take its toll on physical health, leading to increased costs to the health care system. The total cost of unpaid caregiving is impossible to calculate, but the effects are far reaching.
More Demand. Less Supply.
The need for family caregivers has never been higher. There are currently ~50 million Americans over the age of 65, and 10k people turn 65 every day. The 65+ population in the US is expected to grow to ~95 million by 2060, representing a whopping 23% of the total US population, compared to the 16% of the total population represented by seniors today. Currently, older adults are the most expensive population in the country – according to the National Council on Aging:
Approximately 80% of elderly adults have at least one chronic disease (e.g., heart disease, cancer, diabetes, etc.), with over 3 in 4 having at least two chronic conditions
One in four older adults experience some form of mental disorder, ranging from chronic depression or anxiety to dementia
Older adults are also at risk for falls: one elderly adult is treated in an emergency room for a fall every 11 seconds
As Americans are living longer, and our ability to treat chronic conditions continues to improve, the aging population will continue to put and increasingly large strain on the healthcare system.
Additionally, healthcare today is experiencing a shortage of paid caregivers. In 2020, an estimated 100 million Americans will be in need of regular care (this number includes disabled non-seniors), compared to an estimated supply of only ~45 million paid caregivers.
This supply/demand imbalance could be exacerbated as the home health industry braces for CMS's implementation of its Patient-Driven Groupings Model (PDGM), the most industry's significant regulatory and reimbursement in 20 years, on January 1, 2020. Agencies unable to weather the realities of PGCM could close, putting even more pressure on families to fill the resulting gap in care.
As the population in need of care continues to grow disproportionately to the supply of paid caregivers, family members will be increasingly required to step into caregiving roles, often unexpectedly or without forewarning. For a growing portion of the population, unpaid caregiving will become 'the new normal', and the associated financial, mental, professional, and physical impacts will become increasingly commonplace.
Looking Ahead
Given the market realities, it is no surprise that a number of early entrants have developed innovative technology and service offerings designed to address the need of family caregivers. The market for family caregiving support technology products is still relatively nascent, as most companies in the space are currently in the development stage or executing early pilots with potential customers. We see innovation occurring across three primary categories, and highlight several companies developing solutions to address the diverse needs of family caregivers: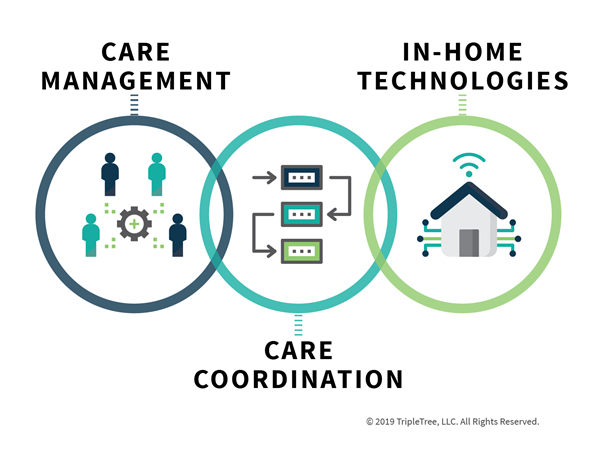 Care Management services support caregivers as they navigate the complex process of caring for an elderly loved one, providing front end and ongoing assessments of the patient's care needs, assisting with finding and arranging paid care, and offering a variety of services which relieve the emotional stress felt by family caregivers, including training, counseling, and household chore assistance.
Village Plan supports families via comprehensive professional geriatric care management services with a focus on "whole person" care
Wellthy delivers a care management technology platform that integrates medical and non-medical (e.g. legal, financial, transportation, housing) services
Care Coordination tools connect the caregiver with the other members of the patients' care team (family members, primary physician, specialists, etc.), creating an integrated channel for the entire care team to communicate in real time.
HT Health's platform connects front-line caregivers with clinical resources to improve care quality and reduce unnecessary medical spend in partnership with health plans
PreparedHealth's platform links hospital case managers with multiple post-acute stakeholders to facilitate patient information sharing and improve post-discharge care quality
LivPact is an early-stage developer of a platform designed to facilitate family communication, monitoring, and service provisions on behalf of aging or chronically ill loved ones
In-Home Technologies reduce the need for family caregivers to be physically present, leveraging sensors and smart technologies to track the physical health of homebound patients while improving mental wellness.
CST Technologies (acquired by Best Buy) provides in-home vital sign monitoring, medication reminders and dispensing devices, in addition to traditional PERS devices
​VitalTech provoides a next-generation wearable tracking device delivering two-way alerts and communications to support aging in-home
VRI provides emergency response, fall detection, activity monitoring, medication management, vitals monitoring and care traffic control for over 160,000 clients in all 50 states
As we look ahead, we continue to believe that family caregivers will play a vital, and increasingly more appreciated, role throughout the healthcare system. While we are excited by recent market momentum, we believe there continues to be a need for further disruption and innovation to meet the needs of a growing market.