Healthcare Services Insights
Upcoming TripleTree Research: Millennials as a Catalyst for Innovation in U.S. Healthcare
Born between 1982 and 2000, there are more than 83 million millennials in the United States. Millennials are now the single largest and most diverse generation in America. In an upcoming Industry Perspective, TripleTree looks at this emerging powerhouse age cohort and begins to unpack how this group of healthcare consumers is driving innovation and investment in the U.S. healthcare industry.  In this blog we provide a preview of two sections from our upcoming research.

Millennials as Change Agents
Millennials are motivated to change the way that healthcare is delivered and consumed—they are looking for a different kind of healthcare experience than past generations received (see Figure 1).
71% of millennials would be interested in a doctor giving them a mobile app to actively manage their well-being for preventative care, review health records, and schedule appointments.
63% of millennials would be interested in proactively providing their health data from Wi-Fi / wearable devices to their doctor so they can monitor their well-being
60% of millennials are interested in using telehealth options (e.g. video chat with doctor) so they don't have to come into the office for an appointment
57% of millennials would be interested in cutting-edge solutions such as pills that can monitor their internal vitals when swallowed.

Millennials are eager to take their broad consumer experiences from other industries and apply them to healthcare settings.

Figure 1: How Interested Are American Millennials in Using Technology in the Health Experience?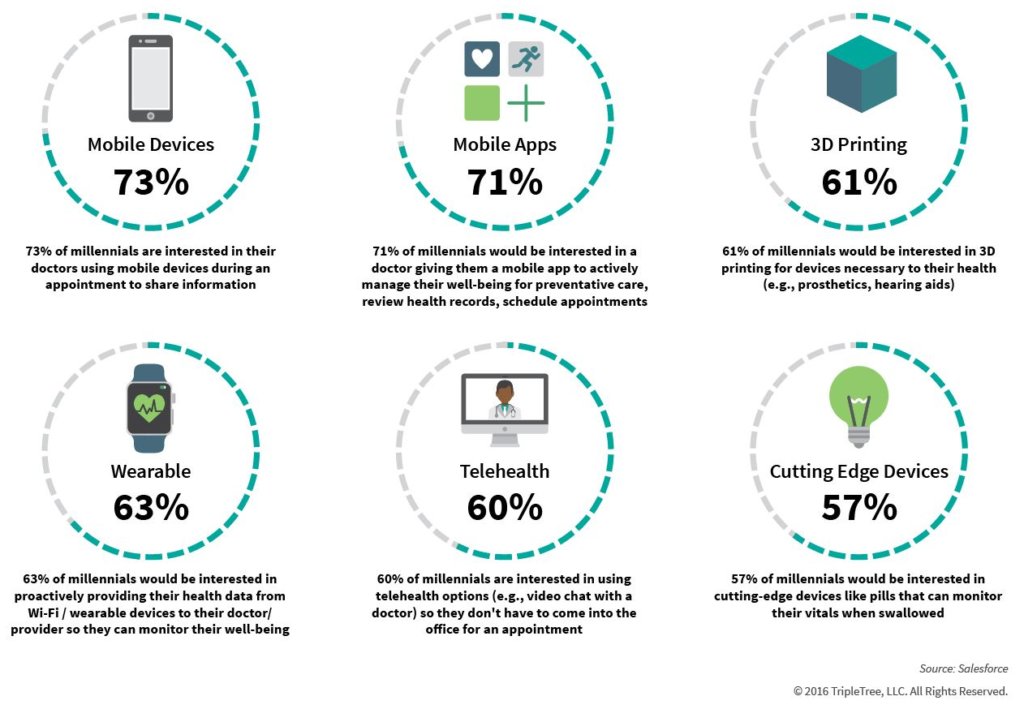 Having lived with the Internet and near instant access to a wealth of information, many millennials approach healthcare — not as patients but instead as consumers — with different expectations and skill sets than previous generations. As millennials reach milestones in their life (e.g. financial independence, marriage, children, aging parents), they will start to engage with the U.S. healthcare system in a more meaningful way. The quicker that healthcare companies recognize and acknowledge the preferences of millennials and the power this group has to shape industries, the quicker they will be able to attract and retain this largest portion of the population. Millennials' impact will be profound – driving the innovation agenda for years to come (see Figure 2).
Figure 2: Tailoring Healthcare to Millennial Expectations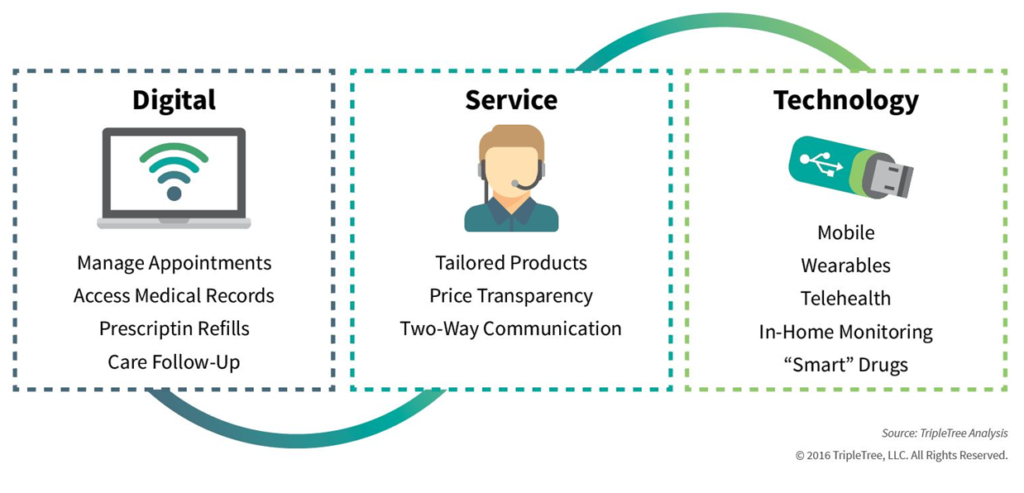 Macro Forces Driving Innovation
Contrasting the hurdles created by industry fragmentation and the regulatory nature of U.S. healthcare are a series of macro-forces creating an environment ripe for continued healthcare innovation and investment. The first of these forces is the potential for ongoing refinement to the Affordable Care Act (ACA). After several years of experience with the ACA, and the upcoming administration change in the White House, the national conversation about healthcare reform will shift to changes and modifications to the ACA (most likely) or on an entirely new replacement program altogether (less likely). Additionally, it is likely the Trump administration's priorities around more transparency of provider service prices, the expansion of health savings accounts (HSAs), and the potential to allow individuals to deduct health insurance premiums will create market momentum.
Increased access to healthcare data is a second macro-force contributing to ongoing innovation. In recent years, the OCR / HHS has provided guidance that patient access to Personal Health Information (PHI) includes any data and patients can request their PHI in an electronic format. The focus on broader access to PHI, price transparency data, quality results, and patient outcomes will create momentum for companies that meet the needs of millennials who rely on and expect access to data to make more informed decisions. The increased access to healthcare data will also contribute to the growth of companies addressing the data security needs of healthcare organizations.
Another macro-force impacting healthcare innovation in the coming years is the broad rise of the healthcare consumer. After 10+ years of shifting healthcare costs to consumers, today's millennials are entering the healthcare world with limited experience or knowledge of the days when employers and/or the government were responsible for a larger portion of overall healthcare expenses. As a result, millennials will bring their experience from other industries to healthcare, reinforcing the need for readily accessible healthcare information. This will help trigger the need for better and more consumable data about healthcare costs, as millennials fit monthly premiums and out-of-pocket costs into their already strained budgets.
The sheer size of the millennial generation, coupled with the macro-forces shaping healthcare, has already contributed to the uptick in investing in digital health companies — creating an interesting backdrop for ongoing investment in the years ahead. Millennials present distinct challenges and exciting opportunities for incumbents and new industry entrants. Incumbents need to respond quickly to prevent obsolescence and gain market share. Healthcare companies that do not meet consumers' growing desire for mobile patient engagement are at risk of losing customers and revenue.
Keep an eye out for our next Industry Perspective in the coming days. In the meantime, let us know your thoughts and opinions about the emerging role of millennials across healthcare.