Healthcare Technology Insights
What's Next: Comprehensive Virtual Health Strategies
As we reflect on our industry interactions, market discussions, research activities, and observations over the past year, we are confident that virtual health is now a core component of the healthcare ecosystem. The pandemic acted as the necessary catalyst to accelerate adoption of virtual health capabilities and entrench behaviors and solutions – realities that will be difficult to contract to pre-pandemic levels. This initial wave of adoption occurred so rapidly that not all stakeholders had the time to strategize and develop holistic virtual health strategies. This is what's next as we move into this next era of virtual health.
TripleTree anticipates a market maturation in the coming years, leading to the development of comprehensive strategies for integrated virtual care delivery. As we contemplate the future, we envision an integrated strategy that includes three key components:
Triage and Intake: An amalgamation of intelligent, data-driven capabilities that engage with patients to digitally diagnose, triage, and route them to the appropriate care pathway based on their specific symptoms, care delivery needs, and severity.
Care Delivery Leveraging Virtual and Traditional Modalities: Once the patient is triaged, the most appropriate, cost effective care pathway can be determined. Traditional, in-person care delivery certainly has its place, but is often over-utilized relative to the patient's severity and specific needs and can unnecessarily delay access to care by days or even weeks for certain services. Primary care physicians (PCPs), for instance, are often overwhelmed with patients filling their waiting rooms that could otherwise be treated asynchronously or monitored remotely from their homes. Intelligently steering patients to the proper care delivery modality improves convenience, timely access, and patient satisfaction while allowing physicians to practice at the top of their license and maximizing the economic impact for all constituencies.
Home-based Patient Monitoring and Engagement: COVID-19 will serve to accelerate the industry's trend toward caring for and managing patients from the comfort of their homes. This low-cost alternative – coupled with telehealth and remote patient monitoring (RPM) capabilities – delivers a broad range of benefits from reduced readmissions and enhanced outcomes to improved chronic care management and better intelligence for managing risk and deploying timely care interventions.
TripleTree's vision for this strategy contemplates the creation of a seamless, interconnected ecosystem with broad impact across the healthcare ecosystem; from small and medium provider practices to employers, from virtual behavioral health to virtual clinical trials, to a more progressive regulatory and reimbursement environment that supports government-sponsored programs. As this comprehensive strategy for virtual care delivery comes into focus, there is a massive market opportunity for innovative companies, investors, and buyers to succeed.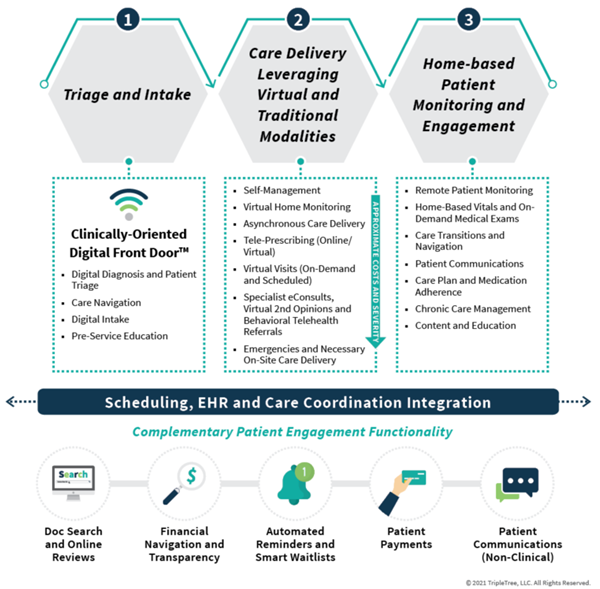 PANEL DISCUSSION: What's Next: The Realities in Creating a
Comprehensive Virtual Health Strategy
Tuesday, April 13 | 10:00 AM CT
Click Here to Register
Market Insights LIVE, virtual health