Healthcare Technology Insights
A New Era of Virtual Health
As you read this blog, the coronavirus has undoubtedly touched the day-to-day lives of many of our readers. We hope this finds you, your family, and your colleagues safe. The pandemic has created urgency across providers/clinicians, payers, employers, and patients to quickly implement innovative virtual care solutions (e.g., telehealth, remote patient monitoring (RPM), digital front door solutions like symptom checkers, etc.). This urgency has been supported by far-reaching sweeping regulatory changes led by the Centers for Medicare and Medicaid Services (CMS) and other government bodies and a rapid response by health systems and providers, ignoring previous impediments to adoption. As a result, virtual health companies are seeing unprecedented levels of demand, which will undoubtedly positively impact long-term adoption of these solutions across the market.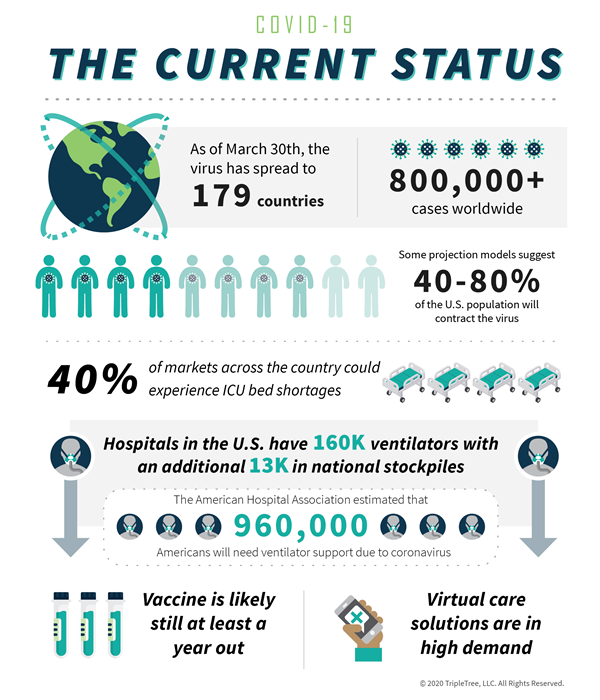 The Situation: Current Status
The coronavirus pandemic is a highly complex and rapidly-evolving situation, changing day-by-day and hour-by-hour. As of March 30, the virus has spread to 179 countries with over 800,000 confirmed cases. The ease with which the coronavirus spreads means a high risk of infection, driving exponential growth of new cases. The virus' exponential growth in populations is creating a systemic risk of bottlenecks and shortages in US healthcare delivery:
While still unknown, some state-based projection models are suggesting that anywhere between 40% – 80% of the U.S. population will contract the virus with early studies suggesting 5% – 10% of those who do will require intensive care (ICU) for full recovery.
A recent Harvard study suggested that in a "moderate" scenario, the exponential growth of the coronavirus would result in ICU bed shortages in 40% of markets across the country.
Furthermore, for those entering the most intensive care settings, there is an impending shortage of ventilators in the United States. To put this in perspective, hospitals in the United States have 160,000 ventilators with an additional 13,000 in national stockpiles. The American Hospital Association recently estimated that 960,000 Americans will need support from ventilators due to the coronavirus.
Even with expedited testing and trials, a vaccine is still at least a year out. As such, virtual care solutions will be (and already are) in high demand as medical professionals and patients alike look for ways to ease the burden on healthcare infrastructure, maintain social distancing and avoid interactions in high potential contagious environments such as hospitals while still receiving the requisite care.
In Response: Sweeping Regulatory Changes
In the U.S., government organizations are moving quickly to empower providers to deliver care virtually. On March 17, CMS released a waiver that will last for the duration of the current public health emergency allowing expanded telehealth services under Medicare. Traditionally, Medicare pays for telehealth services under only limited circumstances, with a visit having to meet five statutory conditions (e.g., the beneficiary must be in a qualifying rural area). As such, up to now, adoption of telehealth has been somewhat modest as providers assess the merit of reimbursement. Under the waiver, Medicare will now reimburse for telehealth services provided anywhere in the country and the site of service will also include the patient's place of residence. In conjunction with the announcement from CMS, the Office for Civil Rights (OCR) and the Department of Health and Human Services (HHS) announced it will temporarily allow for remote communications with patients via non-HIPAA compliant technologies. At the state level, all 50 states had Medicaid reimbursement for telehealth prior to the outbreak, but with strict requirements. In a similar move, many states have released emergency orders to ease telehealth requirements. These sweeping changes and social distancing measures are driving an interest for the healthcare community to turn to telehealth and virtual care services to stay connected with patients.
Likewise, a number of commercial payers are taking additional steps to increase access to Telehealth services. Below are just a few notable examples:
Humana and UnitedHealthcare are temporarily waiving all out-of-pocket costs related to telehealth visits for the coronavirus related treatment.
The bottom line is that government agencies, providers, health plans, and employers are all finding ways to encourage and recommend virtual care solutions to their patients, members, and employees. While many of these initiatives have been put in place on a temporary basis, we anticipate the ultimate result will be long-term regulatory and reimbursement changes encouraging virtual health adoption.Sweeping Demand for Virtual Health Solutions
Historically, adoption of virtual health solutions has been low, with only 10% of healthcare consumers using telehealth according to a 2019 study by J.D. Power. Since the outbreak, however, virtual health companies across the ecosystem (and telehealth companies in particular) have seen an unprecedented surge in demand that we believe will translate to a much higher utilization of telehealth services:
Teladoc (NYSE: TDOC) reported that it coordinated 100,000 patient visits during the week of March 8, and more than half of its visits this month have been from first-time users. With markets down 21% YTD, Teladoc stock has surged 96% in response to the increased demand.
MDLive announced that it has seen utilization of its solutions increase by more than 50% since the start of the outbreak in the US.
Updox, a leading clinical communications, engagement, and productivity platform, was one of six platforms recommended by the HHS for HIPAA compliant video communications. The Company's frictionless approach – providers initiate the video communication and the patient simply receives a link via text or email, requiring no special equipment or app downloads – has resonated with patients and providers. As a result, the Company is seeing unprecedented demand, enabling 200,000 video visits in the last two weeks of March and growing its client base by over 10% last month. TT Capital Partners (TTCP) is an investor in Updox.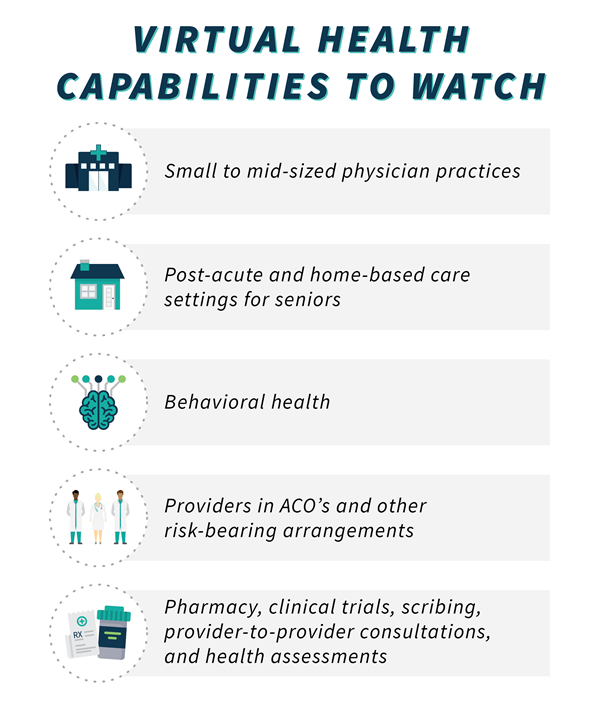 As demand for virtual health solutions surges, we see several end markets and sub-categories that will be particularly impacted in the coming months and years:
Small to mid-sized physician practices, particularly in primary care and other generalist specialties (e.g., pediatrics), are seeing in-person patient visits cancelled due to social distancing precautions. As a result, practices are rapidly adopting telehealth and other virtual health technologies. In the short term, virtual health solutions are a lifeline to these physician practices' financial viability. In the longer term, we anticipate that virtual health technologies will drive physician and patient satisfaction, efficiencies, and improved care quality for these practices.
Post-acute and home-based care settings for seniors have seen increasing volumes for years as an aging population, increasing prevalence of chronic conditions, and patient preferences have created a need for low-cost, home care alternatives (see TripleTree's recent blog on the importance of post-acute care). At this time of crisis, seniors are one of our most vulnerable populations and need virtual care solutions that support the ability for seniors to remain in their home for as long as possible, avoid institutional care settings, maintain access to healthcare providers and caregivers, and proactively monitor their health.
The behavioral health market has already seen rapid adoption of virtual health solutions in the wake of the epidemic. As we have previously written, the mental health market is ideal for virtual health adoption due to an underlying supply/demand imbalance, social stigma barriers, and an acceleration of conditions and isolation due to social distancing measures. With nearly 44 million Americans experiencing mental illness in a given year but only 40% of adults receiving treatment, the behavioral health market opportunity for virtual health is profound.
Providers in ACOs and other risk-bearing arrangements will need to rapidly adapt their care models to mitigate the risk of increased utilization and expensive hospital stays resulting from the coronavirus. Virtual health solutions, including telehealth solutions for proactive prevention for high-risk patients, and digital front door and engagement tools to improve care navigation and triaging, will be critical.
In addition to the three examples above, there are many other areas of healthcare that will likely see a spike in demand for virtual solutions including pharmacy, clinical trials, scribing, provider-to-provider consultations, and health assessments, as well as other technologies that will supplement or provide alternatives to traditional service-based business models in healthcare.
TripleTree and TTCP will be monitoring this market closely and publishing additional insights around telehealth across each of the care settings mentioned above during the coming weeks and months as the healthcare ecosystem adapts to a new normal of virtual health.
As a closing thought on this blog post, we'd like to leave all our readers with the great words of Benjamin Franklin: "out of adversity comes opportunity". For U.S. healthcare, this is an opportunity for lasting, positive change through virtual health innovations.
telemedicine, virtual health