Healthcare Payer Insights
End-to-End Engagement: Maximizing Impact and ROI for Payers
As we highlighted in a recent blog post, today's value-based and more consumer-centric care environment has elevated the idea of "engagement" to be among the most critical drivers of payer success, particularly for government-sponsored plans. Unengaged health plan members potentially translate into avoidable medical costs (e.g., lack of preventative care and care coordination), missed revenue opportunity (risk adjustment), and financial penalties (e.g., failing to meet performance thresholds under HEDIS, Stars, and obligations under value-based payments). The healthcare marketplace is realizing that successful member engagement depends on timely and more personalized outreach received in the preferred communication channel. To maximize the ability to reach unengaged members, we believe it will be necessary for payers to incorporate a cohesive end-to-end enterprise solution consisting of intelligent analytics, multi-modal remote outreach methods, and face-to-face engagement through Community Health Workers (CHW).

The definition of health plan member engagement has changed

Historically, payer strategies for optimizing revenue (premium) and managing medical costs required little-or-no involvement of members and were largely addressed through premium adjustment and managing access to care.

In a post-ACA world, payers have increasingly looked upstream to deploy preventative measures by targeting high-risk members for interventions aimed at preventing avoidable episodes of care (illness/condition management), and population health/wellness programs. While most payers today provide evidence-based interventions designed to maintain and/or improve the health status of members, these interventions deliver no value for members who remain unengaged in their own health.

Engagement is the first critical step for these activities to be successful in supporting higher quality, lower cost care. This is particularly true for high utilizers and at-risk members. Increasingly, payers realize that a member who is unengaged in his/her health is likely to be unengaged with respect to all potentially beneficial activities and services offered by the payer. As a result, unengaged members create unmanaged risk for managed care organizations, at-risk providers, and state and federal agencies. Speaking holistically, in particular for Medicare Advantage plans, these unengaged members represent opportunities for improving risk/revenue accuracy, MLR and performance on quality metrics.

Member engagement success factors
From our perspective, successful engagement is dependent upon executing against three essential components: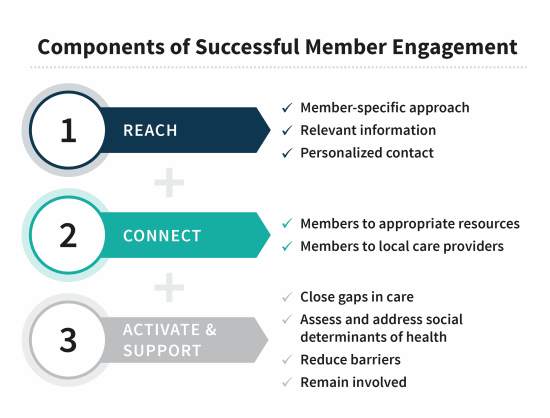 To successfully reach, connect, and activate members, industry stakeholders need to reconsider mass-targeted, one-size-fits-all, often short-term, activities designed to satisfy siloed financial or quality-related objectives. Instead, health plans would be well-served by an "always-on" enterprise engagement strategy designed to achieve coordinated, personalized, outreach that maximizes program impact and ROI while minimizing member abrasion. Tools required to execute against an enterprise engagement strategy include (1) analytics that identify members across revenue/MLR/quality silos and better understand individual preferences; and (2) the ability to dynamically deploy multi-modal remote outreach methods (text/mobile, IVR, microsite technology, live agent, direct mail) supplemented by targeted face-to-face contact to reach the right individuals at the right time, with the right message, and through the right mode of outreach.

Tailoring member engagement to meet the specific needs of different populations

As with any type of targeted communication strategy, we believe it's important to tailor member engagement strategies to help payers achieve their desired outcomes. In our mind, there are three important types of members to contemplate:
Members who cannot be reached, including members that cannot be found (historically a large percentage of some membership bases)
Members who can be reached, but do not engage
Members who may engage but are non-compliant with care/treatment
Important innovations are occurring within the member engagement technology space to help reach these different populations. We see emerging vendors leveraging next-generation platform technology to deliver data-driven multi-modal engagement campaigns that communicate with healthcare consumers according to their own preferences, resulting in industry-leading member engagement and campaign success rates on behalf of its health plan and at-risk provider clients. Yet, while innovators are driving advances in the effectiveness of remote engagement technologies, a meaningful portion of the population remains unengaged after all remote outreach methods have been exhausted. It has been our observation that successful engagement through remote outreach (digital or analog) hits a ceiling somewhere between 35% and 45%. Importantly, the resulting member engagement gap includes many individuals who are likely to benefit greatly from available resources that are not reaching them due to their unengaged status.

So, how does the healthcare marketplace "crack the code" and make meaningful progress in closing the member engagement gap? We believe a comprehensive continuum of capabilities – ranging from up-front technology and backstopped by personalized face-to-face engagement through community health workers (CHW) – is needed to optimize outcomes and ROI.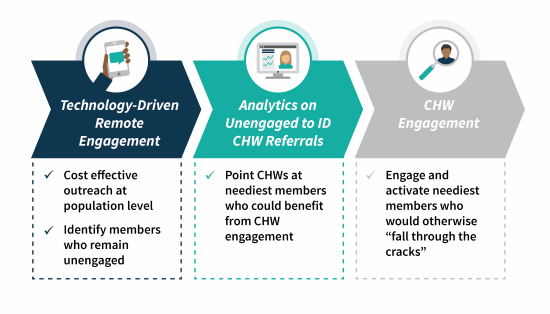 This next-generation engagement model leverages cost-effective and innovative technology to target and engage as many members as possible, while community-based teams personally locate and engage the neediest, most challenging members. Capabilities required to support such a strategy include:
Analytics (who to engage and how to most successfully engage them)

"Whole health" views of the individual → claims, clinical, demographic, social, information to ascertain health status, desired mode of communication, etc.
Need for identification of a broader set of risk factors

Growing progress on this front, but still heavily reliant on claims history and predictive modeling; limited by data available

Full continuum of outreach modalities

Mass outreach

Explanation of benefits, collaterals
Mailings
Newsletters

Targeted outreach

Text/e-mail
Telephonic/interactive voice response (IVR)
Face-to-face (next-generation CHW model)

Assessment tools to identify/confirm SDOH risk/needs/barriers
Taking care to the individual
Community Health Workers provide a crucial "missing link" to close the engagement gap

In our view, one of the most interesting and underpenetrated opportunities to close the member engagement gap lies in deploying a next-generation CHW model to serve as a backstop once remote outreach efforts have been exhausted (i.e., members that reach a defined level of unreachable are referred to CHW vendor for engagement). Specifically, field-based CHWs deliver a highly-personalized style of engagement that facilitates access by taking engagement to the individual. CHWs can drive value across several dimensions, including: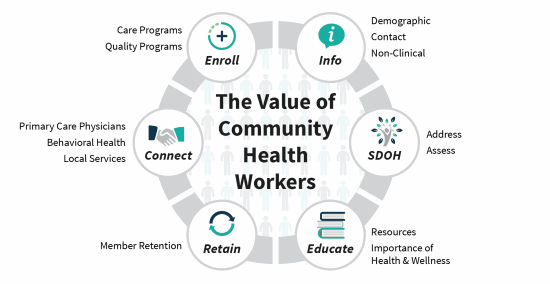 CHWs are hired out of the communities they serve, creating unique insight into engagement preferences that enables a more personalized face-to-face relationship to be built with members. By establishing a relationship with the member via this "kitchen table" style of engagement, health plans gain the opportunity to define and execute a care plan to improve members' health, which is at the heart of value-based care. Many attempts have been made to leverage expensive clinical resources to engage members, but the use of non-clinical CHWs represents an opportunity to drive enhanced results at a lower cost while enabling clinicians to work at the top of their license. Key features of a sophisticated, cost-effective, and high-ROI model include:
1. Sophisticated analytics run against membership referred for CHW engagement that cut across health plan silos (e.g., risk adjustment, care management, etc.), including predictive SDOH factors to identify members appropriate for CHW engagement → we estimate likely 15-20% of member population depending on plan
2. Cost-effective non-clinical staffing model: ability to efficiently hire, train, equip, and retain CHWs
Advanced screening and recruitment tools to identify optimal candidates
Specialized training and ongoing development/support
Cutting edge mobile operating systems and reporting
Innovative community safety programs
3. Advanced technology (mobile workforce management, machine learning prioritization tools, virtual call center) to optimize field-based efficiency and effectiveness
Prioritization – which members present the greatest likelihood of engagement
Stratification – which members will have greatest impact on population outcomes
Logistics – optimizing field-based activities (e.g., travel time, safety protocols, dispatch monitoring, etc.)
All told, the effective combination of remote and in-person engagement activities can serve to drive results across a myriad of health plan key performance indicators, including revenue, quality, medical spend, and member retention. This is critical, especially as industry stakeholders enter into innovative performance-based agreements that are designed to promote effective population health management.

At TripleTree and TT Capital Partners we believe a more comprehensive and cohesive end-to-end approach to member engagement will allow providers to be even more successful in the future. We are encouraged by recent progress and will continue to engage the industry as new strategies and capabilities are implemented. In the meantime, let us know your thoughts on this important business driver.