Healthcare Technology Insights
From Point to Platform: Simplifying the Healthcare Experience
It's no secret to those following the healthcare industry that overall healthcare expenditures are large and growing. At almost 20% of the GDP in the U.S., industry incumbents, start-ups, and new entrants alike are continuously innovating to achieve the quadruple aim. Building upon the triple aim of improving the patient experience, enhancing population health, and reducing costs, the quadruple aim adds a fourth element of improving the provider experience. Technology solutions play a critical role in these efforts and the sector is booming, with expectations of reaching $150 billion in the U.S. by 2025.
Despite the intent of using technology to create efficiencies and ultimately drive us closer to achieving the quadruple aim, the sheer volume of offerings available and investments made into different products has unintentionally resulted in additional processes and burdens on providers and a confusing experience for patients. While technology solutions often add value on a standalone basis, platform solutions and those that integrate with the EHR are increasing in demand.
How did we get here?
Growth of healthcare technology solutions is largely attributable to regulatory dynamics and the industry's shift in focus to the consumer. Understanding these drivers provides color on how we arrived in an environment today where technology has flourished and, in some cases, created a burden.
The rapid development and growing use of technology in healthcare started in large part when Congress passed the Health Information Technology and Clinical Health (HITECH) Act in 2009, which resulted in $27 billion in stimulus funding and rapidly accelerated the deployment of electronic health records (EHRs). More recent regulations and the proliferation of value-based care programs (see below) have created additional tailwinds for new technologies that support these initiatives:
Medicare Access and CHIP Reauthorization Act of 2015 (MACRA): Merit-Based Incentive Payment System (MIPS) and Alternative Payment Models (APMs)
Bundled payment programs and initiatives
Other commercial payer value-based care programs
Consumerism is also increasing demand for innovative technology solutions, as 75% of consumers have stated they want the same experience in healthcare that they get from other industries. This dynamic, along with increasing patient financial responsibility resulting from growth in high deductible health plans, has fueled the development of new solutions spanning secure messaging, mobile / online scheduling, price transparency, payment portals, and more.
An Increasing Focus on the Provider
In addition to the regulatory and consumer aspects, the industry's focus on the provider has intensified over the past several years as physician satisfaction and burnout have trended negatively. Most physicians spend ten hours or more on paperwork each week and a report from Medscape found administrative tasks and increasing technology were two of the top three contributors of physician burnout. Additionally, healthcare ranks dead last out of 25 industries in the U.S. for simplicity of experience. In this regard, the patient and provider experience can both be streamlined by platform offerings and those that are integrated within the EHR. In fact, according to a recent survey from Updox, over 40% of practices would switch from point solution vendors for a platform offering that can perform all necessary patient engagement, administrative, and communications functions.
Compared to point solutions and those not integrated with the EHR, platform and integrated offerings:
Reduce the number of logins and siloed processes, driving better user experience for providers
Reduce the number of fees incurred and vendor partnerships, further streamlining administrative duties for providers
Provide a better experience for the patient by simplifying processes and interactions with providers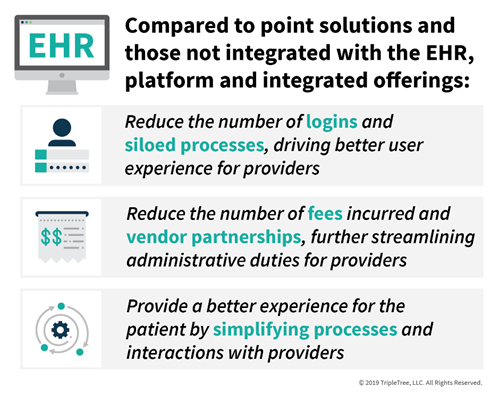 We have witnessed a growing number of companies that offer platform solutions, including many that have successfully recapitalized with prominent private equity firms in the recent past. And while not a new phenomenon, we continue to see a variety of transactions from companies seeking to further build out a platform solution.
Examples of platform players:

Examples of consolidation plays:

Waystar's recapitalization by EQT and CPPIB: Waystar, the combination of Navicure and ZirMed, was recapitalized by EQT and Canada Pension Plan Investment Board (CPPIB) with the intent of using the capital to continue expanding via M&A.
Verscend Technologies' acquisition of Cotiviti: Together, the companies expect to have greater impact in the healthcare IT market by increasing affordability, reducing waste, and improving outcomes and quality, as well as offering new opportunities to create substantial value for clients, including complementary solutions across multiple intervention points in the payment process.
symplr's acquisition of API Healthcare: the combination of these two companies will deliver the healthcare industry's only fully integrated governance, risk, and compliance (GRC) and (human capital management) HCM SaaS platform of scale, offering an end-to-end solution encompassing provider data management, credentialing, and workforce management.
Veritas Capital's combination of athenahealth and Virence Health: the two companies bring complementary solutions together, allowing the combined company to deliver a more comprehensive suite of solutions to its network of over 120,000 providers and 117 million patients.
The opportunity to further simplify the healthcare experience for both patients and providers continues to exist. Platform technology solutions are helping to address that opportunity by streamlining workflows and allowing providers to spend more time delivering care and less time on administrative duties. We believe platform offerings will continue to be in high demand and a driver of consolidation in the industry.
EHR, Electronic Health Records