Healthcare Services Insights
FYI on TBI: Perspectives on the Traumatic Brain Injury Rehabilitation Market
Traumatic brain injuries (TBI), defined as "bumps, blows, or jolts to the head that disrupt the normal function of the brain," represent a leading cause of death and disability in the United States. TBIs are most commonly caused by automobile accidents, falls, or violence, resulting in nearly three million emergency department visits and hospitalizations each year. While the vast majority of these injuries are classified as mild (often referred to as concussions), an estimated 10-15% are classified as moderate or severe and present a significant risk of long-term impairment. While comprehensive data is limited, an estimated 3.2 – 5.3 million people are currently living with a TBI-related disability.
 
Providing post-acute care for those who have suffered brain injuries is complex and multifaceted. Treatment can last for years or even for the rest of a patient's life, and the level of clinical expertise needed to care for these individuals serves as a significant barrier to entry in this market. This blog dives into some of the forces driving market activity in the post-acute brain injury rehabilitation market, including the rate of TBI incidence, the reimbursement backdrop for covering these services, and the influx of private equity investment in this space.
 
TBI Incidence Continues to Grow but Mortality Rates are Declining 
From 2006 – 2014 (the most recent date in which data is available), the total number of annual emergency department visits and hospitalizations resulting from TBIs has grown in the mid-single digits. However, over this same time period the number of TBI-related deaths has remained relatively flat. Deaths as a percentage of emergency department visits and hospitalizations have fallen from 3% in 2006 to 2% in 2014. This dynamic may lead to growth in the number of individuals who require long-term brain injury rehabilitation services.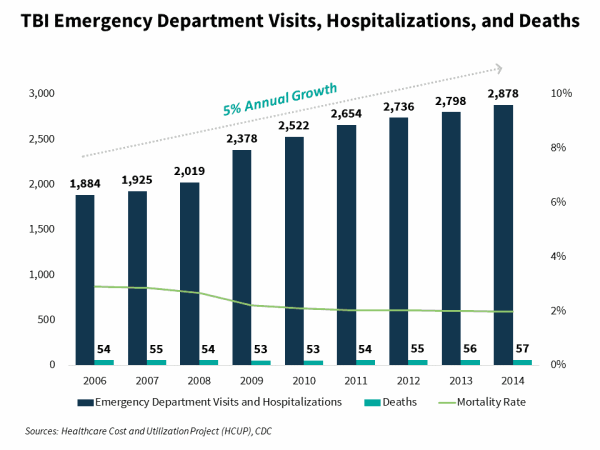 The Provision of Care Remains Dependent upon Reimbursement Sources which Vary by State
Long-term care for those with TBI-related disabilities is extremely expensive. Given the high cost and duration of care, commercial insurance is typically augmented or superseded by Medicaid Waiver programs, workers' compensation insurance, and / or automobile insurance. These funding sources tend to vary in availability and magnitude from state to state.
 
There is a strong correlation between the number of provider locations, proxied by the Commission on Accrediation of Rehabilitation Facilities (CARF) accredited residential rehabilitation locations with a Brain Injury Specialty program in a state and the availability of funding from one or more of these three reimbursement sources within that state. For example, Michigan has the highest number of provider locations due to its auto insurance law, which provides unlimited lifetime medical benefits for those who are injured in a car accident.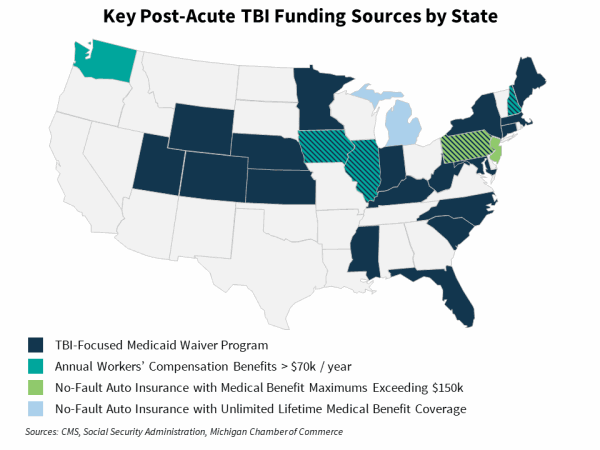 There are 26 Medicaid waiver programs in 22 states that cover individuals needing long-term care as a result of a brain injury. Nearly 40,000 individuals are served through these waiver programs, though a handful of these programs also cover those with spinal cord injuries or those with physically disabling conditions.
 
For those who suffer a TBI while engaged in a job-related activity, workers' compensation insurance represents a significant source of funding. Each state has a maximum weekly rate that a worker can receive based on the date of his or her injury. Four states and the District of Columbia have annual workers' compensation benefits that exceed $70,000, with benefits in Iowa exceeding $90,000.
 
Automobile insurance, particularly in no-fault states, represents the third major source of funding for brain-injury rehabilitation services. Under no-fault insurance, each person's medical costs are borne by that person's insurance company, regardless of who is fault in an accident. There are currently 16 states that require drivers to purchase no-fault insurance and another seven where no-fault insurance is optional. With the exception of Michigan, which provides for unlimited lifetime medical benefits, each of these states covers medical benefits up to a certain limit. Of those with benefit maximums, New Jersey and Pennsylvania have the highest ($250,000 and $177,500 respectively).
 
The Largest Players in this Space are under New Ownership
Over the past 3 years, there has been significant M&A activity in the brain injury rehabilitation space, particularly among the largest multi-state providers. In that time, there has been one large strategic consolidation (Civitas's acquisition of Mentis Neuro) and a handful of private equity platform acquisitions.
 
In October 2017, market leader Civitas Solutions acquired Mentis Neuro Rehabilitation, which provides specialty rehabilitation services to individuals recovering from brain injuries in Texas and Ohio. Civitas acquired the Company for $75 million, representing 2.1x trailing revenue.
 
In February 2018, Baird Capital acquired ReMed Recovery Care Centers, which provides brain injury treatment services in New Jersey, Pennsylvania, Maryland, and Louisiana. The Company is one of the largest pure-play brain injury rehabilitation providers in the country. No financial terms were disclosed.
 
In December 2018, Centerbridge Partners announced the acquisition of Civitas Solutions for $1.4 billion, representing 0.9x trailing revenue and 8.4x trailing EBITDA. Civitas provides home and community-based health and human services to individuals with intellectual, developmental, physical, and behavioral needs. The Company is the market leader in the provision of post-acute brain injury rehabilitation services through its Specialty Rehabilitation Services segment, where it provides services in 25 states.
 
Also in December, KKR announced the acquisition of BrightSpring Health Services(formerly known as Res-Care) for $1.3 billion, representing 0.7x trailing revenue. BrightSpring is one of the largest providers of home and community-based health services to complex populations in the United States. The Company operates CARF-accredited residential facilities with brain injury specialty programs in Illinois, Maine, Michigan, and Texas. The transaction closed in March of this year, with KKR combining the Company with PharMerica, a provider of institutional and community-based pharmacy services.
 
As we continue to monitor the market, we believe the convergence of market forces will continue to drive growth in this sector. As the number of individuals living with TBI-related disabilities grows, we expect funding availability for brain injury rehabilitation and supported living services will also grow, whether it be through new Medicaid Waiver programs or other reimbursement sources. We also anticipate that new private equity ownership among the largest players will likely drive increased M&A activity over the next several years – with the providers with the largest footprints, effective clinical programs, and strong operations attracting strategic interest.