Healthcare Market Insights
Healthcare M&A On the Move: Mid-Year Assessment
In our recently published Market Insights report, we noted a dramatic drop-off in second quarter M&A activity, down some 33% from the same period last year. COVID-19 has had a clear impact on the market as acquirers and investors face an unprecedented environment that put the brakes on industry consolidation activity. While the United States is technically in a recession, most economists would argue that this pandemic-caused recession is not typical, and so far, economic recovery has been rapid across most industries including healthcare. If this recession is not typical, what does it hold for healthcare M&A?
As data shows, in typical recession years there is a healthy drop-off in M&A activity as growth capital turns insular to focus on core operations and organic growth, and private equity and venture investors slow their pace to focus attention on existing portfolio companies. In the first chart below, we can see a dramatic decline in both M&A deal volume and deal value across all industries during recessionary periods. Healthcare M&A volume, as shown in the second chart, also sees declines in recessionary periods but to a lesser extend than the broader economy. Yet however bleak the chart may look in 2020, we are seeing an incredibly fast market turn-around for healthcare M&A activity which should go a long way to close the gap in year-over-year deal volume.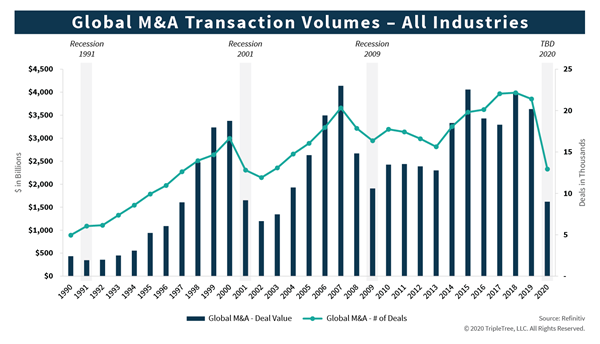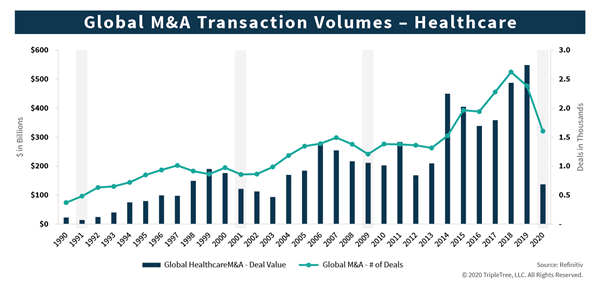 As we stated, this recession is not typical and while the table indicates a fall-off in healthcare M&A for the partial year, the current volume of activity leads us to believe that it is still possible to make up significant ground and see a more normal level of M&A activity this year. Within our own firm we are very busy with active M&A mandates right now, and even more important is that we do not see upcoming market activity limited to a few sub-sectors within healthcare. In our most recent Market Insights report, we noted some resilience in the more limited Q2 M&A activity to support themes like digital health and home health, the coming wave of activity is much broader and covers multiple healthcare domains. This industry loves its buzz-words; themes like virtual care, digital health, and consumer engagement are real and noteworthy initiatives for coming market activity. However, the current transaction environment spans beyond this and we expect healthy M&A activity across numerous key healthcare technology and care delivery services areas as indicated in the data below: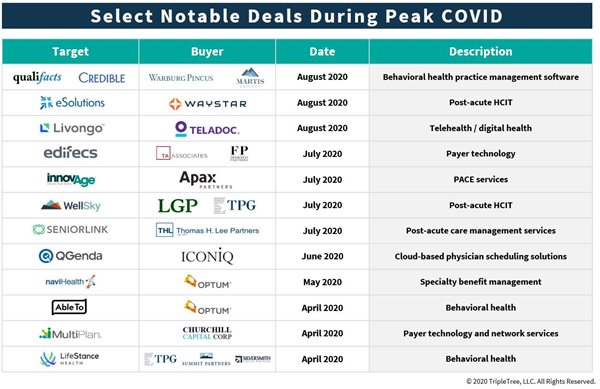 While it is one thing to point out that many companies are about to come to market as either investment or acquisition opportunities, it is entirely another to recognize that we are still dealing with and adjusting to the impacts of the COVID-19 pandemic. As a result, several questions become central to strategic acquisitions and private equity investments in this unique environment. Questions we hear and are often asked at TripleTree include:
How are strategic companies and investors reacting to M&A and a growing wave of activity? Are they prepared to transact virtually?
What about public and debt market support and the willingness to finance these transactions?
What can we learn from some of the headline transactions over the last few weeks and have deals completed during the pandemic provided a level of confidence to others?
How are organizations building relationships as these are such an important part of the deal process?
Deal timelines have been rapid in many instances with some signing at break-neck speed. Is there something unique occurring in the market that is shortening process timelines?
Signing a transaction is one thing but the real hard work comes in integration. How are companies thinking about the integration process during COVID-19 with restrictions on travel and face-to-face meetings?
These, among others, are all great questions. To help provide a perspective, we have assembled a panel of experts to share their points of view on transacting during a pandemic. Join us for our Market Insights LIVE thought leadership session on September 22nd where TripleTree professionals and industry leaders from McKesson, Teladoc, and Great Hill Partners will share in-depth perspectives on these and other important topics surrounding the current healthcare M&A climate.
We look forward to this important discussion and hope you can join us next week.

Healthcare M&A On the Move: Mid-Year Assessment
Tuesday, September 22 | 10:00 AM CT
Click Here to Register
 
Great Hill Partners, M&A, Market Insights LIVE, McKesson, Teladoc