Healthcare Services Insights
Hospice: Integral to Post-Acute Care
We hope this blog finds you, your family and colleagues safe and healthy. As we reflect on the current global crisis, we are grateful for the strength and courage of our healthcare community, including all of the dedicated clinicians, caregivers, and volunteers who are tirelessly doing what they can to treat and protect our friends and family.
Over the last few years, post-acute care has been thrust into the spotlight – now, more than ever, given the outbreak of COVID-19. As hospitals work to manage bed capacity, post-acute care settings provide an invaluable outlet for those individuals not requiring intensive or emergent care. We have published a number of articles on the space highlighting the tremendous value that post-acute care providers deliver to our healthcare system in addition to other contemporary observations on the space. Last October, for example, we published a blog focused on the forthcoming impact of the Patient-Driven Groupings Model (PDGM) on the home health industry. We now take another look at hospice, which continues to be an important part of the post-acute delivery system, and one that has garnered strong market interest.
During 2019 and the first quarter of 2020, the hospice industry has witnessed a strong and accelerating M&A environment. Private equity investors and strategic acquirors alike are attracted to the industry's strong tailwinds, including greater awareness and demand for hospice services, stable reimbursement, and overall fragmentation. Further, until the transition to PDGM settles in as the new norm, we expect hospice to remain the post-acute M&A priority relative to home health.In 2019, Advent International, Summit Partners, Towerbrook Capital Partners (in partnership with Ascension), Revelstoke Capital Partners, and Prairie Capital all made platform investments in the space across AccentCare, Abode Hospice and Home Health, Hospice Compassus, The Care Team and Legacy Hospice, respectively. Other private equity-backed platforms also haven't been shy about driving growth and new market expansion through tuck-in acquisitions:
St. Croix Hospice, backed by The Vistria Group, acquired Serenity Care Hospice, extending its presence into Missouri
Hospice Care of South Carolina, also backed by The Vistria Group, acquired Agape Hospice, with the combined company representing the largest hospice provider in South Carolina
Affinity Hospice, based in Birmingham, AL and backed by MBF Healthcare Partners, acquired Bridgeway Hospice, which expanded the company's presence into GA and extended its services into palliative care
Charter Health Care Group, backed by Pharos Capital, acquired two hospice service providers, St. Luke's Home Hospice and Arizona Select Hospice, both of which were previously part of the VeraCare Hospice System
Traditions Health, a portfolio company of Dorilton Capital, was very active in 2019 completing 4 different acquisitions, including Hospice Connection (TX), Reflections Hospice and Palliative Care (AZ), Pathways Hospice (AZ), and Guiding Hospice (TX)
Heart of Hospice, a subsidiary of Evening Post Industries with 17 locations across AR, LA, MS, OK and SC, purchased Heartstrings Hospice, expanding the company's footprint in SC
Newly formed Three Oaks Hospice, backed by Granite Growth Partners, Health Velocity Capital, and Petra Capital Partners, completed three acquisitions of Texas locations from Total Hospice & Palliative Care, ABS Palliative Care and Hospice Care and Fellowship Hospice
Martis Capital-backed Care Hospice acquired Altus Hospice, based in Houston, TX
Fueled by stock prices that were trading at historic highs, public home health and hospice companies were also aggressive as they looked for M&A opportunities to gain market share and entry into new markets. After closing its $340 million acquisition of Compassionate Care Hospice in early 2019, Amedisys continued its full court press on the space and announced the acquisition of Asana Hospice in November, adding approximately 540 patients across eight locations in PA, OH, MO, KS and TX. Similarly, Encompass closed its $200+ million acquisition of Alacare Home Health & Hospice, based in Birmingham, AL in July. The Ensign Group completed the spin-out of the Pennant Group, while also continuing its acquisition playbook as it acquired Resolutions Hospice and Preceptor Home Health and Hospice. AddusHomecare, on the other hand, made its splash in the hospice pool with the transformational acquisition of Hospice Partners of America (HPA) in October. Prior to this acquisition, Addus was primarily a non-skilled home healthcare provider that had entered the hospice market in 2018 through the acquisition of New Mexico provider Ambercare. The acquisition of HPA significantly increased Addus' hospice revenue and represented an expansion of hospice services into six new states.
Given the hospice market's attractive industry fundamentals, other technology and service vendors that provide solutions to hospice agencies are also experiencing strong growth and success. Humana's acquisition of Enclara Healthcare is a notable example. Enclara, one of the nation's largest hospice pharmacy and benefit management providers, was a natural extension of Humana's growing post-acute care capabilities, which were kick-started through its transformational acquisitions of Kindred and Curo. Enclara will provide Humana the opportunity to extend its comprehensive care continuum strategy to cover the pharmacy-related needs associated with hospice care, simplify the mail order pharmacy experience, and advance its technology stack for in-home pharmacy through areas such as enhanced mobile medication management and improved EMR connectivity. With pharmacy and DME representing hospice providers' largest lines of spend outside of labor, we also anticipate other PBM and DME benefit management providers, such as StateServ HospiceLink, to experience continued strong growth and momentum.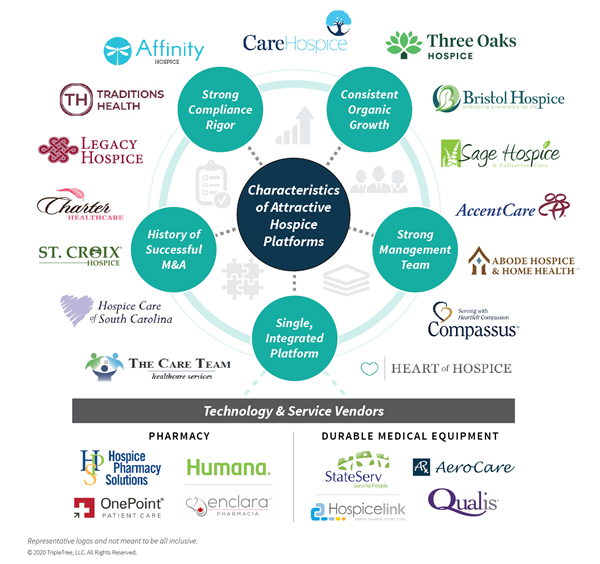 As we've continued to interact with the market in recent weeks, we note the potential short to medium term business challenges associated with COVID-19, including the impact to patients, families, and clinical professionals. Two primary challenges emerged from our conversations: the impact resulting from hospice consultants who may no longer be allowed to enter hospitals, SNFs and other clinical settings to assist with the transition to a hospice and the impact resulting from clinical professionals who may need to stay home to care for themselves/their own children or to avoid potential virus exposure.

Mid to long-term we expect the rigor recently seen in the new investments and M&A activity within post-acute care to resume. TripleTree has identified several key business characteristics that are important to creating durable market interest from strategic acquirers and private equity firms:
Strong Compliance Rigor – A history of compliance is paramount! A proven and robust compliance infrastructure goes a long way towards providing acquirers with peace of mind around operational integrity and clinical quality
Consistent Organic Growth – A proven ability to grow census organically in established markets is a key indicator of brand value, market reputation, and operational prowess. It is important to display organic growth through both referral growth and sales and marketing efficiency, as well as consistent de novo success
Strong, Backable Management Team – Experienced and proven management teams can drive a market premium, given their ability to maintain culture and operational success while continuing to effectively and efficiently drive growth and manage scale
Single, Integrated Platform – Operating on one centralized platform provides operational efficiency and easier integration into a strategic platform – and the opposite is also true, with lack of integration across technology and operations adding risk that potential acquirers may reflect in their valuation
History of Successful M&A – A demonstrated track record of rolling-up smaller market players and effectively integrating them into the existing platform is vital to the investment playbook of most potential buyers / investors
We are hopeful for near-term market stability and look forward to what lies ahead for the hospice space. As you study the space or explore interesting M&A opportunities, please don't hesitate to reach out. We would welcome the opportunity to share our thoughts and perspectives!