Healthcare Outsourcing Insights
Hub Services: Playing a Vital Role in the Evolving Pharma Outsourcing Landscape
While the healthcare landscape faced unprecedented challenges and disruptions in 2020, the drug development and commercialization sector plowed ahead with robust activity across a broad set of products, indications, and markets. Fueled by over $88 billion in total equity raises (~76% increase over 2019), 343,000+ clinical studies, and the Food and Drug Administration's (FDA) ongoing commitment to streamlining new drug application (NDA) and biologics license application (BLA) approvals, the pipeline of products entering commercialization today is stronger than ever. However, with an outsized portion of late-stage trials advancing specialty medications with complex molecules, including biologics and cell and gene therapies with narrower target patient populations, commercialization strategies have evolved into more specialized approaches in order to succeed. As Greg Skalicky, Chief Revenue Officer of EVERSANA, noted: "Manufacturers spend > $125M over three years leading up to [commercialization] launch, yet 66% of drugs don't meet launch expectations. An unpredictable landscape, coupled with inevitable industry pressures, is forcing manufacturers to seek a more complete commercialization approach with less risk and more value."

The most recent complication for manufacturers' strategies has been the market-wide migration to a patient-centric approach. Patients have started to demand a higher level of engagement in clinical decision-making and protocols, so manufacturers have focused on solutions that provide better patient engagement and education, improving patient outcomes and satisfaction scores, and delivering meaningful cost savings across the patient journey. Secondarily, payers' evolution to value-based payment models under outcomes-based contracts will require accelerated downstream transparency into the patient journey supported by real-time data collection and synthesis. As a result, we believe that manufacturers' standalone limitations to implement specialized commercialization strategies aligned with the patient-centric approach coupled with the future requirements of value-based arrangements has fueled the massive wave of investment and activity into outsourced pharma services platforms.

Patient-Centric Approach Driving Hub Services Model
The end market opportunity for overcoming the variety of these challenges associated with high-cost indications and more personalized care is driving unprecedented levels of innovation and deal activity in a category of patient-centric solutions broadly defined as "hub services". The current landscape of hub services platforms encompasses a variety of service models and solutions that directly address the key pain points and primary drivers of success for manufacturers' modern commercialization strategies: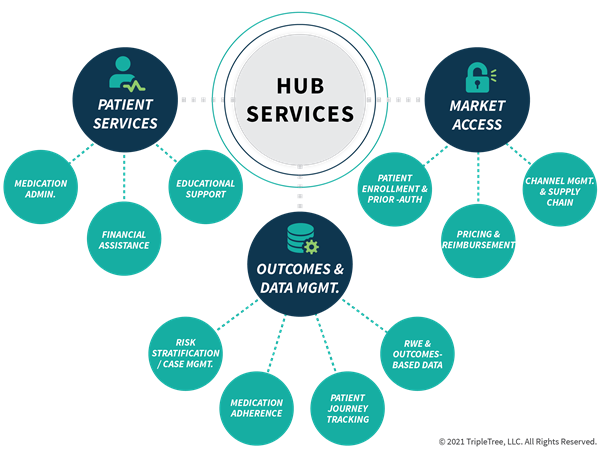 Today's hub services providers require direct touchpoints with one or multiple constituents in the healthcare system for a solution to be effective. As a result, and as one of the key drivers of activity in the space, hub services platforms have the unique opportunity to serve as the centralized, cross-functional provider for a variety of commercial services, including those performed by other outsourced providers across the patient continuum. Thus, in consideration of this multi-variable equation to drive a successful commercialization strategy, particularly on a complex drug, we believe hub services providers will play a vital and increasingly integrated role to enable manufacturers to achieve their evolving strategic initiatives.

Leading Platforms Delivering Early Results
While the broader hub services sector is largely in the early stages of a long-term growth cycle, today's leading platforms have proven to deliver meaningful and tangible results as it relates to key issues faced in contemporary commercialization strategies. Specifically, solutions focused on better patient engagement across the care journey, market access maximization, medication adherence and affordability, and real-world evidence and outcomes-based data management have seen unprecedented growth, leading to broad market interest and investment. In our evaluation of the current landscape, there is a clear dichotomy between hub services platforms positioning as a 'one-stop-shop' vs. those focusing on optimizing a narrower subset of capabilities or specialties, but such leading platforms, including those described below, continue to evolve, expand and refine their service models to further embed themselves as critically integrated components for enabling highly successful commercialization strategies:
EVERSANA, backed by JLL Partners and Water Street, rolled out "COMPLETE COMMERCIALIZATION" in 2018 as a complete, full-scale and customizable infrastructure for commercial partnerships. EVERSANA has continued to expand the solution suite through add-on acquisitions in ancillary specialty services including communications services (The Access Group, 2018), digital patient enrollment (Seeker Health, October 2018), and patient outcomes research (Cornerstone Research Group, October 2019)
TrialCard, backed by Odyssey Investment Partners, is a tech-enabled suite of access solutions to help patients get on medication while providing data-driven analytics to maximize adherence. TrialCard's acquisitive growth strategy layered on new services to its foundation as a co-pay financial assistance platform to now include reimbursement, nursing support, and adherence solutions (Mango Health, September 2019), payer intelligence (Policy Reporter, November 2019), virtual provider engagement and clinical trial supply management (RxStudy Card, January 2019), and non-commercial pharmacy services and risk mitigation & compliance (TC Script / TC Synapse, October 2018)
CareMetx, backed by General Atlantic and Vistria, is a technology-enabled hub services provider facilitating patient access to specialty medications by leveraging digital eServices integrated into a cohesive platform to promote efficiency and remove barriers for patients and providers
PharmaCord, a privately-held company, provides a broad range of patient services including reimbursement, educational support, care coordination and prescription fulfillment enabling patients to better understand how to administer their medication and get medicines at an affordable price
AssistRx, a privately-held company, is a cloud-based therapy initiation and patient support solution providing tailored access and reimbursement, adherence and persistency, and non-commercial specialty pharmacy services to meet the unique needs of today's patient population
IntegriChain, backed by Accel-KKR, is a cloud-based channel management software for life sciences supplies to drive channel collaboration and improve the efficiency of how products reach customers. The end-to-end channel managed services span rebate management, government pricing, gross-to-net, and chargeback management
Trinity, backed by Parthenon Capital, provides manufacturers with a range of advisory services, insights and analytics, and technology to support evidence-based solutions for successful commercialization strategies
Since 2018 alone, leading financing sponsors and strategic players have made material platform investments in hub services and/or commercialization outsourcing platforms to capitalize on the accelerating growth opportunity and expanding addressable markets:
In January 2021, General Atlantic acquired a majority stake in CareMetx from the Vistria Group who also re-invested into minority rollover position (CareMetx description above)
In November 2020, GHO Capital acquired Envision Pharma Group, a leading provider of global medical strategies to help life science marketing teams connect with their audiences and provide purpose-built solutions such as publication planning & delivery
In March 2020, Blackstone and Harvest Partners participated in Genstar's recapitalization of ConnectiveRx, the leading tech-enabled biopharma services company providing patient and provider support, market access and adherence solutions for specialty and branded medications
In March 2020, The Riverside Company acquired Red Nucleus, a leading provider of commercial learning solutions for healthcare companies and R&D strategy and operations
In December 2019, Court Square acquired Medical Knowledge Group, a provider of multi-channel marketing services to pharmaceutical and biopharmaceutical companies throughout the entire product lifecycle
In June 2019, New Mountain Capital acquired W20, a leading provider of analytics-driven, digital-first healthcare marketing and communications services
In Q4 2018, Welsh, Carson, Anderson & Stowe (WCAS) acquired MMIT, a leading provider of specialized market data and analytics for pharmaceuticals and managed care companies
In March 2018, Parthenon Capital acquired Trinity Partners, a leading provider of specialized market data and analytics for pharmaceuticals and managed care companies
In total, we believe the broad consensus on expanding adoption of hub services models and the benefits their solutions provide to the overall healthcare system will continue to fuel innovation, investment and general sector growth that will outpace the underlying market growth. As a result, in both the medium- to long-term, we expect the rigor seen in new investments and M&A market activity within hub services, as well as the broader pharma outsourcing space, to continue to escalate.
Pharma, Pharma Outsourcing