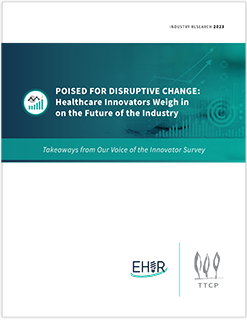 Poised for Disruptive Change: Healthcare Innovators Weigh in on the Future of the Industry
The healthcare industry has faced turbulent conditions in recent months – still, opportunities are plentiful for those willing to drive change. Much has been reported about how large payers, providers and systems are responding to the dynamic marketplace; but what about the many small, innovative companies serving the healthcare ecosystem?
AUGUST 2023
TT Capital Partners, in partnership with Employer Health Innovation Roundtable (EHIR), recently sought to capture the collective "voice of the innovator." We invited 35 founders and CEOs of early- and growth-stage health solutions companies to participate in a survey about the current and future state of the industry, including their take on the pressing industry challenges their businesses address, the headwinds and tailwinds they face, and their predictions regarding future disruption in healthcare.
Our report reveals an interesting dichotomy: Although innovators expressed concern about the financial pressures on the industry and large players' ability to innovate, overall, they are optimistic about the future of healthcare and energized about emerging opportunities for disruption and advancement.