Healthcare Services Insights
Q1 '16 Healthcare M&A Roundup
In the first quarter of 2016, TripleTree tracked 452 healthcare mergers and acquisitions that had either closed or been announced. The 452 deals had total and median enterprise values of $90.6 billion and $37.6 million, respectively.
The Healthcare Services, Facilities and Technology sector saw most of the activity with 278 transactions. The Life Sciences Technology and Services sector saw 103 transactions and the Healthcare Equipment and Distribution sector saw 71 transactions. Transaction value detail is broken out in the chart below.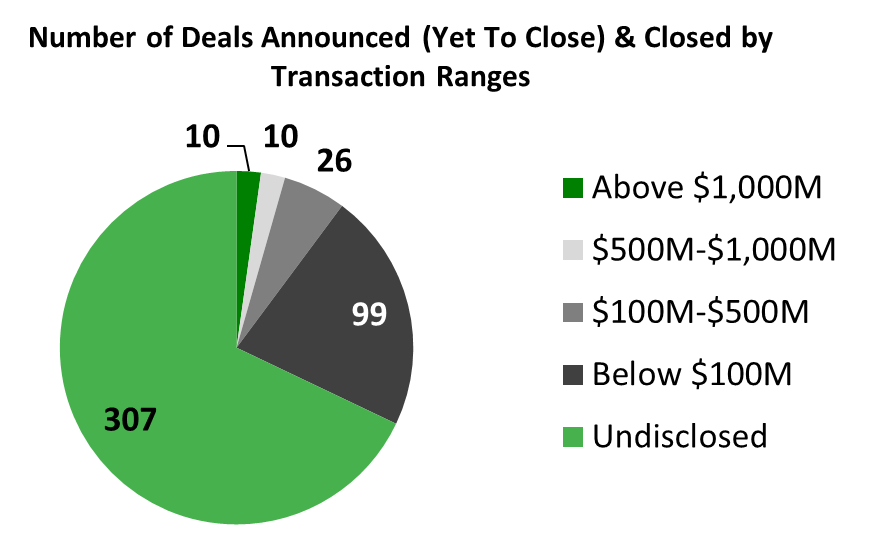 Overall, we continue to see the trend of consolidation across the payer, provider and services landscapes. Shire plc's (LSE:SHP) agreement to acquire Baxalta Incorporated (NYSE:BXLT) for $36 billion led the group, followed by Abbott Laboratories' (NYSE:ABT) agreement to acquire Alere Inc. (NYSE:ALR) for $9 billion. Below, we highlight some of the top transactions by deal size from this quarter.
Centene Corp. Acquires Health Net, Inc. for $6.1 Billion
Target Description
Health Net Inc. provides managed healthcare services through its health plans and government-sponsored managed care plans. The Company provides and administers health benefits to approximately 5.4 million individuals across the country through group, individual, Medicare, Medicaid and the U.S. Department of Defense. The Company also offers behavioral health, substance abuse and employee assistance programs, managed healthcare products related to prescription drugs, managed healthcare product coordination for multi-region employers, and administrative services for medical groups and self-funded benefits.
TripleTree Perspective
Centene Corp. has closed its merger with Health Net Inc. following approval from key California regulators on March 24, 2016. This transaction will make Centene the largest Medicaid insurer in the country by membership and revenue, with more than 10 million members across the country and estimated 2015 proforma revenue of $37 billion. Health Net will provide Centene with access to California's dual demonstration program and will expand Centene's reach into other Medicaid and Medicare programs in the Western United States, including Arizona, Oregon and Washington. The transaction has also increased Centene's product diversity as it extends the Company's offerings in government programs and the Commercial business to provide its members access to more solutions.
Pamplona Capital Management Acquires MedAssets, Inc. for $2.7 Billion
Target Description
MedAssets provides technology-enabled products and services to healthcare organizations to improve performance through supply chain and revenue cycle management. Through its two divisions, Spend and Clinical Resource Management (SCM) and Revenue Cycle Management (RCM), the Company offers an array of technologies and services to drive operational, financial and clinical improvement. MedAssets' customer base includes over 4,500 hospitals and over 123,000 non-acute providers. Since acquiring MedAssets, Pamplona Capital Management has entered into an agreement to divest MedAssets' Spend and Clinical Resource Management (SCM) segment to Vizient Inc.
TripleTree Perspective
Pamplona intends to combine MedAssets' Revenue Cycle Management (RCM) segment with its existing portfolio company, Precyse Solutions. Precyse offers fully outsourced health information management services along with medical coding, clinical documentation improvement (CDI) and other technologies. The combined enterprise will offer an end-to-end RCM and HIM solution to serve the evolving reimbursement environment that is increasingly requiring comprehensive, clinically-integrated revenue cycle solutions.
Allscripts Healthcare Solutions, Inc. and GI Partners to Acquire Netsmart Technologies for $950 Million
Target Description
Netsmart Technologies provides technology designed specifically for the health and human services sector, enabling business processes including electronic health records, patient management, billing, scheduling and clinical care delivery. Netsmart serves more than 500,000 users in more than 24,000 healthcare organizations across the United States.
TripleTree Perspective
The joint venture between Allscripts Healthcare Solutions and private equity firm GI Partners is acquiring Netsmart Technologies for $950 million. Allscripts and GI Partners will each own roughly 40 percent, with Netsmart management owning the remaining 20 percent. As part of the deal, Allscripts will merge its Homecare business, which combines solutions for business, clinical and scheduling functionality for home health, hospice and private duty, with Netsmart's CareFabric suite of business solutions. This transaction makes Netsmart the largest human services and post-acute technology provider in healthcare. With the combination, Allscripts gains ownership of Netsmart's leading post-acute technology as well as expands its footprint into the growing behavioral health market.
Note: The acquisition of Netsmart Technologies was announced in the first quarter but did not close until April 19, 2016
TripleTree will be actively monitoring these, and other, transactions given their market disruption potential. There are many strategic and financial acquirers whom are highly desirous of opportunities in healthcare, particularly around prominent market themes (e.g., value-based care, expansion of managed government programs, and integration of disparate technology solutions). Therefore, we anticipate that M&A activity will continue amid a relatively healthy capital market environment.
Let us know what you think.