Healthcare Payer Insights
Reaching for the (Medicare) Stars: The Growing Need for Innovative Quality Solutions
The evolution to a value-based care environment, one that rewards health outcomes as opposed to the volume of services provided, has spurred the development of reimbursement models that align payment and care delivery with quality outcomes. While value-based care is typically thought of through the lens of how providers are reimbursed for care delivered, value-based arrangements are equally prevalent in the way health plans are reimbursed by The Centers for Medicare & Medicaid (CMS) through government-sponsored programs, a dynamic most notably prevalent in the Medicare Advantage (MA) program.
These privately-operated MA plans provide Medicare benefits to qualified members and, in turn, receive non-negotiated, capitated payments from CMS —an arrangement that provides incentives for MA plans to optimize quality outcomes while minimizing unnecessary costs. Although these plans have the flexibility to build their own provider networks and provide the preferred amount of additional support services and resources, CMS maintains significant involvement in regulating the services provided through their reimbursement methodology: providing the highest benefit to those plans deemed the highest quality.
Overview and History of the Five-Star Quality Rating System
To objectively measure the quality of private insurers, CMS created and implemented a five-star quality rating system (scored 1 – 5, low to high) applicable to all MA lines of business that measures the beneficiaries' experience with the respective health plans and health care systems. This scaled system, developed in 2007, serves as a comparison tool for beneficiaries to assess MA plans on metrics other than cost and is a key component in financing health care benefits for MA plan members. Overall quality ratings for a plan are a product of 50+ metrics across 10+ rigorously audited datasets that target five major factors and are posted on the CMS consumer website for public dissemination (see below). Of all datasets, the Healthcare Effectiveness Data and Information Set (HEDIS), which measures how well a plan is managing preventative care and chronic conditions, is one of the most abundantly used sources due to its broad applicability and its ability to be systematically recorded through claims data.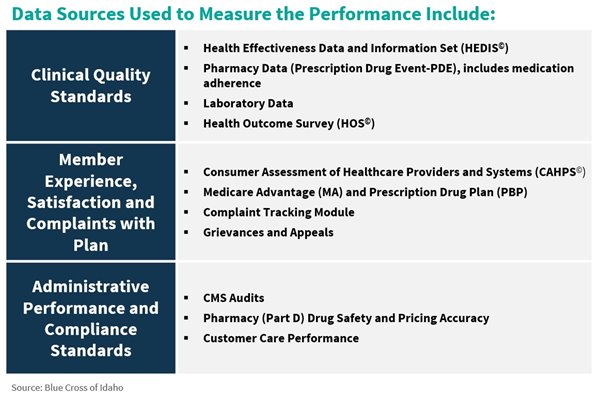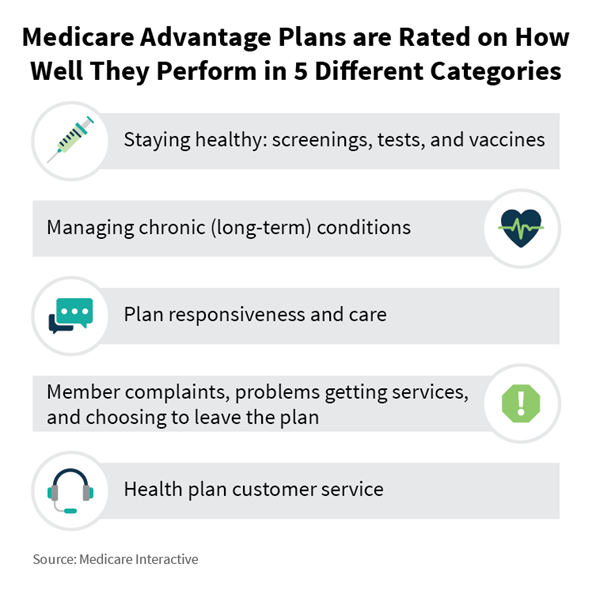 Higher star ratings indicate that a health plan delivers higher quality care and provides increased beneficiary satisfaction. Plans with high ratings are eligible for increasing levels of bonus payments and rebates for their enrollees, while consistently low performers are at risk of CMS terminating its contract altogether. A recent analysis of 500 MA contracts concluded that improving from a 3-star to 4-star rating could increase revenue between 13.4% – 17.6% while, for plans with 3 or less stars, a 1-star rating improvement could lead to an 8-12% year-over-year enrollment increase. Given significant payment incentives for overall performance, plans are intently focused on improving quality performance.
Increasingly Competitive Ratings Environment
Because Star Quality ratings are based on relative performance compared to other plans and contracts, all of which are similarly incentivized to improve every year. As the quality of the market landscape increases, so too does the difficulty for a plan to attain and maintain a high rating. CMS sets thresholds annually for each measure, developing cut-points based on performance of all plans for each measure over the previous year. As all health plans improve their quality, the distribution shifts toward the high-performing end, creating an environment of increasing difficulty to achieve the coveted level of 4 – 5-star quality and the associated financial benefits.
Historic performance indicates that plans have been able to outpace the performance bands, as evidenced by the number of MA contracts rated 4.0 from 2012-2017. That said, the ability for plans to maintain this rating can be difficult as other plans improve their overall performance and CMS reevaluates the requirements and performance required to quality for each Star quality rating. As a result, MA plans are seeking vendor partner relationships that deliver innovative approaches to improve outcomes, which is fueling demand for capabilities and solutions that manage various aspects of quality.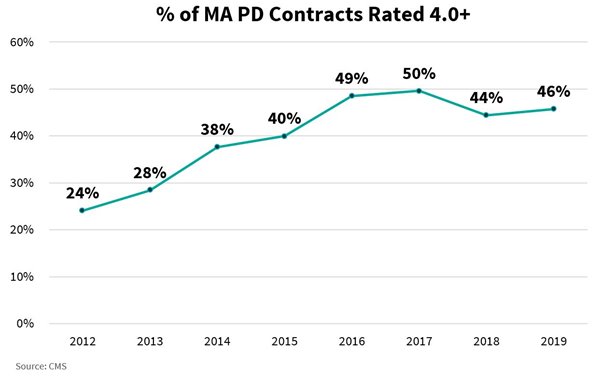 Strategies and Solutions for Health Plans to Manage Quality and Outcomes
Given plans' reliance on its provider network and the actions of its member base to achieve clinical quality, it is imperative to implement a wholistic approach built on information dissemination and aligned incentives to manage quality ratings. There are a myriad of different approaches and related vendor solutions for plans to achieve these aims, including:
Representative Vendors
Data collection enhancement
Coding, interoperability, and AI-powered intake solutions to facilitate the ingestion and dissemination of data to provide actionable insights for plans and providers to identify new sources of value within existing population
Advantmed
Episource
Improved quality measurement tracking and analytics
Providing visibility of program effectiveness and identification of potential gaps in care to plans and providers
BioIQ
Carrot Health
HealPros
Matrix Medical Network
Increased provider engagement
Providing tools or resources that educate on preferred behaviors and encourage performance on Stars measures while incentivizing physician behaviors that are in alignment with these measures
Apixio
Stellar Health
Vatica Health
Increased member engagement and communication
Communicate with members through preferred pathways and easy-to-use methods to make available services known and remove barriers to accessing mutually beneficial resources
NovuHealth
Revel Health
Pharmaceutical adherence
Provide adequate access to necessary drugs, remove unnecessary barriers to refill, improve packaging practices, track usage, identify non-compliance issues, and appropriately intervene and educate members to improve patient outcomes and avoid unnecessary costs due to complications and readmissions
AdhereHealth
As MA plans continue to focus on both delivering and displaying high levels of care quality, which in turn contributes to higher standards and increased benchmarks, health plans will need access to innovative tools and approaches to remain competitive – and to realize the financial benefits associated with higher Star Quality ratings. With this year's Medicare Open Enrollment cycle now complete, it will be exciting to watch the progress across the industry in 2020.
Centers for Medicare and Medicaid Services, CMS, Medicare Advantage