Healthcare Services Insights
Regulatory Environment Creating Momentum for Home Infusion M&A
Nearly 45% of Americans suffer from at least one chronic disease, and the number is growing. Chronic diseases – including congestive heart failure, diabetes, rheumatoid arthritis, and various immune deficiencies – have varying treatment paths. One of the most effective, but at the same time, most expensive treatment pathways is infusion, the intravenous or subcutaneous administration of drugs, biologics, nutrients or fluids. With rising healthcare costs, payers are pushing more and more post-acute services, including infusion therapy, into lower cost care settings. According to a 2016 CVS Health study, home infusion costs are significantly lower than when administered in the acute setting, with savings between $1,900 – $2,900 per treatment. Along with the financial benefit, home infusion has also been shown to reduce the risk of readmission and more catastrophic health issues, such as hospital-acquired infections.
The last few years, however, have seen choppier waters for home infusion providers. Many home infusion providers have struggled to provide adequate care in an unsustainable reimbursement environment, forcing some providers to shutter their operations and driving many patients back to higher cost settings of care. In this blog, we explore recent regulatory changes that have altered reimbursement dynamics and are reshaping the industry, driving home infusion M&A.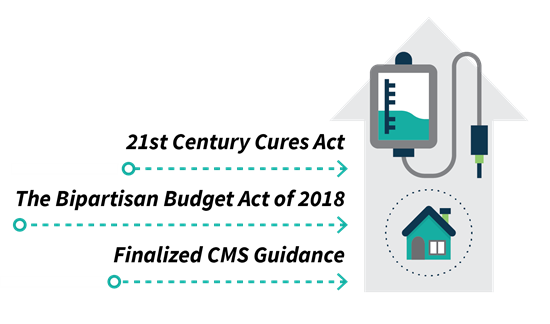 21st Century Cures Act Overview
The 21st Century Cures Act, signed into law on December 13, 2016, aimed to expedite medical product and drug development in order to provide innovative and effective care to high acuity patients. The new law sought to modernize clinical trial design and clinical outcome assessments, incorporating a more patient-minded perspective into the FDA decision-making process. For home infusion therapies, the Cures Act changed two significant areas of Medicare reimbursement:
Reduced Payments for Infusion Drugs: The Cures Act shifted the reimbursement methodology for home infusion therapies from 95% of the average wholesale price to average sales price plus 6%. Effective beginning January 1st, 2017, this change resulted in significant reductions in drug reimbursement for home infusion providers.
Created a New Home Infusion Therapy Benefit: During the bill passage process, the home infusion industry lobbied for a new model that would rectify Medicare's inadequate reimbursement for infusion drugs. In response, Section 5012 was added to the Cures Act, establishing a new Medicare home infusion benefit intended to cover professional services, including training, education and monitoring services. This new home infusion therapy benefit is set to take effect on January 1st, 2021.
Medicare reimbursement for home infusion therapy has historically relied primarily on payments for the therapy administered; professional services and other operating expenses are not directly reimbursed but are instead paid for out of the margins created by therapy payments. While Section 5012 was intended to ease this reimbursement dilemma, the new benefit's delayed start date in 2021 created a four-year "care gap" forcing home infusion providers to operate within a much narrower reimbursement paradigm.
The Bipartisan Budget Act of 2018
As numerous home infusion providers clamored for reform to ameliorate the care gap, Congress responded with the Bipartisan Budget Act of 2018. The BBA (signed February 9, 2018) provides reimbursement for clinical services provided administering a limited set of home infusion drugs in the Medicare Part B Durable Medical Equipment benefit and went into effect on January 1, 2019. The BBA creates a transitional services reimbursement structure that will be in effect until the final services reimbursement structure is enacted in accordance with the original model laid out in the Cures Act.
Finalized CMS Guidance
Following passage of the BBA in 2018, the Centers for Medicare and Medicaid Services (CMS) spent considerable time focused on care delivery in the home, addressing both the Patient-Driven Groupings Model (PDGM) that became effective on January 1st, 2020, as well as the home infusion benefit that will be effective on January 1st, 2021. The finalized home infusion benefit will reimburse for the professional service component of home infusion therapy, such as nursing services, patient training and education, and remote monitoring.
The industry has been disappointed by the finalized home infusion benefit, though, believing it leaves meaningful areas unaddressed and creates an unsustainable reimbursement environment. In accordance with the final regulations, home infusion providers are only reimbursed for services on days when a nurse is physically present at the patient's home. From the provider perspective, the new benefit fails to reimburse many of the key underlying costs of administering infusion therapies in the home, as it neglects to account for professional services performed remotely by pharmacists and other clinical team members, including assessments, care planning, care coordination, remote monitoring and sterile drug preparation.
Regulatory Change Driving M&A
Amidst the backdrop of regulatory uncertainty, providers throughout the home infusion industry have increasingly turned to M&A as an effective means of cutting costs and defending against narrower reimbursement. TripleTree has tracked noteworthy transactions and identified several overarching trends that are coming to define this transitional period.
Mega Mergers

In August 2019, Option Care and BioScrip completed a merger to create Option Care Health. The newly created company emerged as the largest independent home and alternative site infusion services provider in the United States, representing ~21% of the US home infusion market. The merger presented powerful value creation potential, with expected cost synergies alone exceeding $60M over 18-24 months
– According to public filings, the Cures Act was responsible for a reduction of approximately $50 million in EBITDA for Option Care and Bioscrip taken together
– Option Care Health's aggressive synergy plan will continue to be closely monitored and has the potential to meaningfully limit the firm's near-term acquisition activity
In December 2019, UnitedHealth Group's OptumRx announced an agreement to acquire Diplomat Pharmacy, Inc. While Diplomat has a diversified offering including specialty pharmacy and PBM services, it is also the #4 player in home infusion and the combined business will now represent ~16% of the US home infusion market
Sector Ripe for Private Equity
While the home infusion competitive landscape is led by integrated healthcare providers, independent home infusion providers represent ~45% of the US home infusion market. There are currently ~800 independent home infusion companies that have been impacted to varying degrees by regulatory uncertainty, and their ability to weather the storm is not as strong as larger more established players. The current state of disruption presents a highly attractive consolidation opportunity.
In January 2019, Pritzker Private Capital acquired KabaFusion, a leading provider of acute and specialty home infusion services based in Cerritos, CA. PPC invested alongside KabaFusion's pharmacist-led management team, who continue to lead the business
In November 2019, Frisco, TX-based Soleo Health (backed by HIG Capital and Falcon Investment Advisors) acquired Dayton, OH-based Paragon Infusion Therapy, expanding its national footprint of 20 pharmacies and strengthening its presence in the Midwest
In January 2020, New Providence, NJ-based The PromptCare Companies (backed by The Halifax Group) acquired Premier Specialty Infusion, a Hoffman Estates, IL-based business, to further expand its footprint in the Midwest and deepen services in IVIG
Opportunity for Diversified Healthcare Players
Several key trends are driving activity in the infusion market more broadly, including a large pipeline of infusible biologic therapies and the overarching theme of infusions moving out of the hospital, in many cases into ambulatory infusion centers and physician offices, in addition to the home.
Given the tapered pool of pure-play home infusion strategic partners, diversified healthcare players including Option Care Health, CVS and UnitedHealth Group will continue to reach deeper into home infusion.
Private equity is also poised to explore home infusion through a more diversified services approach, with a number of transactions highlighting an increased interest in specialty pharmacy and infusion services.
In December 2017, TA Associates announced a strategic growth investment in Healix, a provider of outsourced alternate-site infusion therapy management services
In April 2018, Waud Capital acquired physician office infusion management business Altus Infusion and announced the formation of Pharmacy Partners Holdings, a platform for investment into the broader specialty pharmacy services market across multiple settings of care including physician offices and patients' homes
In August 2019, IVX Health, a Nashville, TN-based and patient focused operator of ambulatory infusion centers (formerly Infusion Express), completed a $22.5 million round of financing to accelerate nationwide expansion, co-led by Health Velocity Capital and McKesson Ventures
In September 2019, Cimarron Healthcare Capital acquired Infusion Management, an infusion therapy MSO providing services to Infusion for Health, the premier provider of infusion treatment services to patients in the Los Angeles market
The reimbursement environment in home infusion provides both opportunities and challenges. Smaller independent providers may continue to face issues in maintaining market share as they adjust to the new environment and prepare for the upcoming 2021 regime. Larger, diversified healthcare players, as well as private equity, see opportunities to expand care delivery across the provider continuum and into the home. As we look ahead, we'll be keeping an eye on how regulatory forces continue shaping this dynamic industry.