Healthcare Technology Insights
Risk, Quality and Value-Based Payments: Looking Ahead to RISE Nashville
The latest stop on the healthcare conference circuit is Nashville, Tennessee, as many innovators, investors and leaders converge to address the industry's most pressing revenue and quality management initiatives. While the 10th Annual RISE Nashville Summit may not attract the same level of fanfare as the annual HIMSS conference, the focus of the summit addresses some of the most active and disruptive areas in healthcare, including: risk adjusted reimbursement, quality reporting, and compliance. As an investment bank focused exclusively on healthcare, TripleTree has helped facilitate several of the most recognizable transactions in these segments, including:

As we think ahead to our time in Nashville, TripleTree is focused on several topics impacting revenue and quality management:
Value-Based Payment Models are Here to Stay: Value-based payments are characterized by tying financial incentives (or payments) to care quality and cost-effective care delivery while adjusting for demographic factors and/or member acuity. These models have steadily expanded in Medicare as well as Medicaid and the Commercial market over the past decade. CMS has been steadfast in its commitment to these models, having been most aggressive in Medicare as it has indicated it seeks to link 90% of payments to quality or value by 2018. While the Medicaid and Commercial markets are earlier in their evolution, the pace of acceleration combined with the population size and complexity of these programs have generated similar levels of urgency among payers and providers.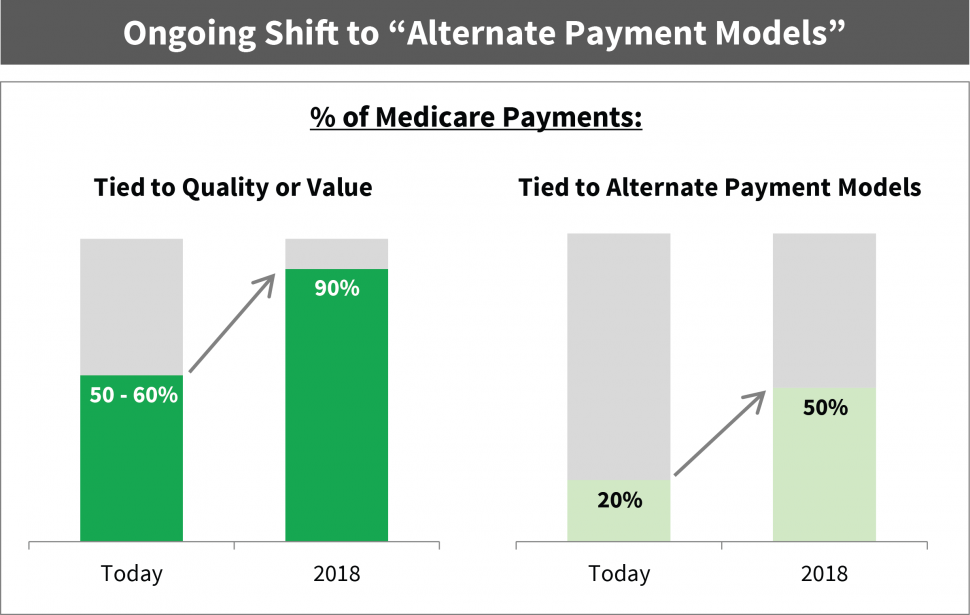 These payment models impact both payers and providers. For providers, these payment models reflect a new reality as they align financial performance to care quality, cost and outcomes for a captive population versus historically being centered solely on volume.  For payers, the continued evolution and complexity of these payment models require focus on member-specific risk factors in order to address gaps in care and determine cost-effective intervention strategies while managing reimbursement.  Adding to the complexity are the varying nuances of value-based payment models across different market segments.  Risk models in state-based Medicaid programs can be very different than Medicare Advantage; therefore, different approaches and capabilities are necessary to optimize success.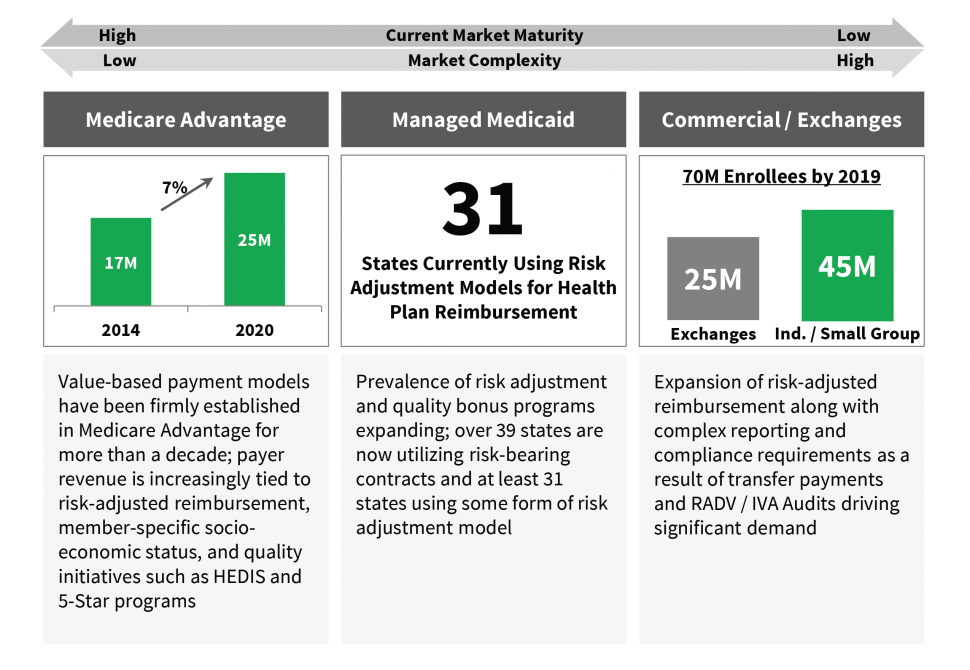 Early Exposure to New Payment Models Highlights Lack of Preparedness: Unfortunately for many stakeholders, these new payment drivers are fundamentally different than the fee-for-service paradigm, rendering legacy systems and workflows insufficient in managing these new payment criteria. Several recent examples highlight the magnitude of these harsh new realities. CMS' reinsurance and risk-adjustment results for the initial year on the Public Exchange highlighted significant reporting deficiencies at several leading health plans. These reporting challenges resulted in significant risk adjustment transfer payments, much of which was tied to an inability to appropriately estimate their risk exposure (likely due to insufficient collection and reporting of Exchange member data). Medicare Advantage plans have faced similar challenges and in some cases sanctions related to compliance or poor quality scores (i.e., Star ratings).
There are a multitude of vendors chasing the opportunity to support payers and providers in their transition to value-based payments. In the payer market, several vendors have grown to scale supporting health plans in addressing the various components of value-based care, including risk and quality management, compliance and population health management. The opportunity in the provider market is still early, although a multitude of vendors are circling with a variety of different approaches. This competitive landscape includes a number of vendors with roots in the payer market, as the required capabilities and challenges are increasingly applicable to risk-bearing providers. Similarly, vendors who have been provider-facing historically are now expanding and reorienting their capabilities to address these needs. The evolution of the provider segment and how this plays out competitively is one area we will be analyzing in our discussions at RISE Nashville and throughout 2016.
We look forward to seeing and hearing from many of you in Nashville. We would be happy to compare notes and share our additional perspectives if you would like to meet at the conference.