Employer Healthcare Insights
The Acceleration of Virtual Health in the Employer Market
Since the outbreak of the COVID-19 pandemic, TripleTree and TT Capital Partners (TTCP) have embarked on a comprehensive research initiative on care delivery transformation through virtual health technologies, including conducting over 100 industry briefings with leading innovators, investors, buyers, and thought leaders across the provider, payer, and employer markets. In the seventh installment of our "New Era of Virtual Health" blog series, we unpack the rapidly evolving impact of virtual health in the employer market as companies seek to drive engagement, productivity, satisfaction, and health and well-being amidst the new normal of remote work environments and the rapidly evolving return-to-office protocols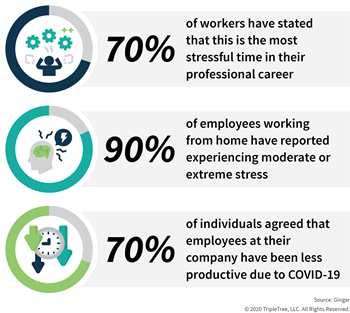 According to a recent survey conducted by Willis Towers Watson, the U.S. has seen the number of remote work employers grow from 14% to 39% of those surveyed during the pandemic. While this shift in company operations and workflows was occurring, employees across the country have reported record levels of stress and disruption in their daily lives:
Nearly 70% of workers have stated that this is the most stressful time in their professional career, including the Great Recession and the September 11 terror attacks (Source: Ginger)
Over 90% of employees working from home have reported experiencing moderate or extreme stress (Source: Ginger)
70% of individuals agreed that employees at their company have been less productive because of stress and anxiety surrounding COVID-19 (Source: Ginger)
As a result, companies of all sizes have been rapidly exploring and adopting virtual heath solutions. The aforementioned survey by Willis Towers Watson indicates that 86% of employers are promoting telemedicine and 58% are increasing access to telebehavioral health.
Point Solutions are Expanding the Suite of Conditions Managed
Historically, the employer virtual health landscape has been characterized by platforms that have focused on a specific care type (e.g., urgent care or primary care), a single chronic health condition (e.g., diabetes, hypertension, sleep, MSK, etc.), or behavioral / mental health in order to validate outcomes, ROI, engagement, go-to-market, and other key platform performance metrics. With the increased demand and adoption for virtual health in the employer market, we expect to see, and are already witnessing, leading platforms expanding across a broader set of medical and behavioral conditions as consumers and employers alike demand a single access point to digital care. This expansion is supported by a mounting body of evidence showing the interconnectedness of chronic medical conditions as well as physical/behavioral conditions: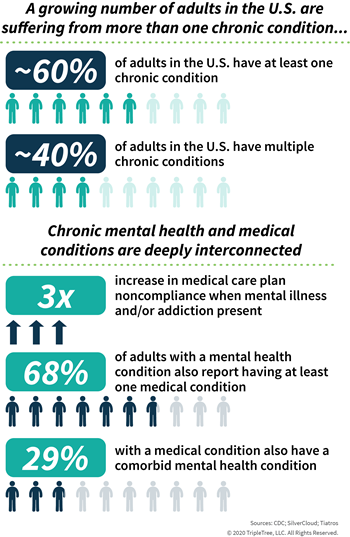 A growing number of Americans are suffering from more than one chronic condition. Recent estimates show that ~60% of adults in the U.S. had at least one chronic condition, and ~40% had multiple chronic conditions (source: CDC)
Chronic mental health and medical conditions are deeply interconnected. There is a 3x increase in medical care plan noncompliance when mental illness and/or addiction present (source: SilverCloud). In addition, 68% of adults with a mental health condition also report having at least one medical condition, and 29% with a medical condition report also having a comorbid mental health condition (source: Tiatros)
The recent announcement of the $18.5B merger of Teladoc and Livongo is an example of this theme playing out in the marketplace. Teladoc provides on-demand, episodic virtual visits across medical clinicians as well as therapists and other behavioral health clinicians while Livongo specializes in long-term chronic care management across diabetes, hypertension, and behavioral health. We expect to see this strategy continue to play out in the market and accelerate via M&A, partnerships, and organic expansion.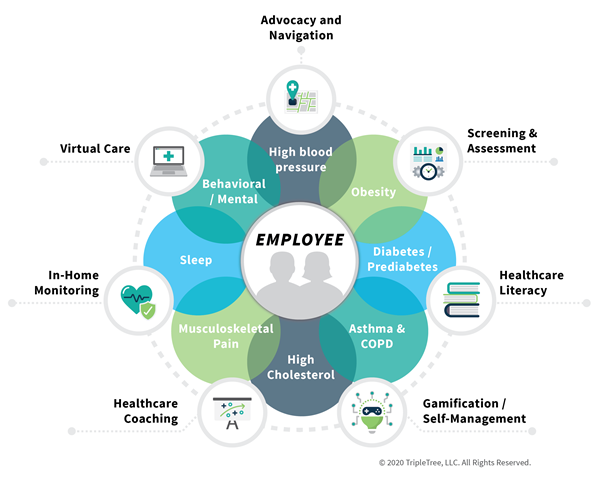 Leading platforms building end-to-end capabilities
In addition to expanding across conditions, leading employer virtual health platforms have identified that improving overall health and well-being for employees requires a broad set of end-to-end capabilities. As a part of the research for this blog, TripleTree connected with Michael Laquere, CEO of the Employer Health Innovation Roundtable (EHIR) to hear his perspectives. According to Laquere, "COVID-19 accelerated the adoption of virtual health capabilities by employers, but it's still early days as they look to build comprehensive strategies to meet the needs of their employees." Technology platforms are taking greater leaps to engage with employees where they are in their health journey, removing barriers to access, optimizing healthcare utilization, and creating a sense of ownership and empowerment of employees to manage their health. Below is a spectrum of capabilities we see inherent in many of these platforms that are driving adoption:
Care Navigation: Dramatic variations in cost and quality of care exist because consumers lack the resources to navigate the complexities that exist in the healthcare system. Several digital approaches are seeking to break down these barriers. One of the best examples is virtual second opinion solutions. These vendors are providing a medium to connect consumers with the highest quality physicians across a broad set of conditions, eliminating the historical barriers to access that geographic location often posed. These solutions offer a network of physicians at institutions such as Cleveland Clinic, MD Anderson, Mayo Clinic, and other top tier centers of excellence. They are making medical records collection and physician consultation increasingly seamless to the user, incorporating multi-modal forms of communication (e.g., asynchronous text-based) to speed turnaround times. These platforms are becoming even more sophisticated, considering not only condition-specific and physician quality data but also consumer preference data to optimize matching for the patient-physician connection.
Screening and Assessment: The ability to address the reality that each individual seeking treatment will come to that situation with a different set of physical and mental conditions has long been challenging to address through digital means. However, the barriers of appropriately screening and assessing each individual are being broken down and platforms are emerging to create a very individualized experience for each employee. These employer-facing "digital front door" solutions are utilizing advanced technology capabilities, such as chatbots and AI tools, to streamline intake, triage, and navigation. They can provide feedback on an individual's symptoms, establish the most appropriate baseline to begin treatment, guide them to the right level of care based on their condition, follow up to assess progress, and create social communities to support that individual's journey.
Healthcare Literacy: We have moved into an era where the initial entry point for self-diagnosis has become the internet; where individuals seek to assess their condition amidst of sea of conflicting information, often leading to poor medical decisions. A study by CMS found that 53% of consumers are unhappy with their medical decisions because they lack the right information and guidance. Getting the latest evidence-based research into the hands of the consumer to allow them to make the best decisions for their health has been proven to have a positive effect on cost and quality of care. Many digital solution providers are finding new and more engaging ways to do this. On-demand, clinically validated content is now getting into the hands of consumers through the stroke of a few keywords. Others are simulating an interactive environment through the use of video sessions put on by subject matter experts, allowing individuals immediate access to information on a timetable that suites their schedule. Integrating this form of content with tools that allow for self-management are enhancing the efficacy of solutions as consumers engage with confidence in their own condition management.
Gamification/Self-Management: Gamification concepts have emerged in healthcare as a way to modify an individual's behavior to improve health outcomes. Behavioral economic principles are being applied via digital means to drive interventions to unseat unhealthy behaviors. Gamification is being applied within the employer market across areas where behavior change can be most readily addressed to impact high cost populations and improve employee productivity. Initial applications were focused on fitness and nutritional programs. Some of its more advanced applications are now seeking to address mental health and diabetes, where incremental improvements in behavior change can have a significant impact on overall health and well-being and employer healthcare spend. With younger generations growing up with broad access to video games, this is a natural extension to create positive and sustained engagement for condition management.
Health Coaching: Healthcare coaching is not a new concept to the employer market, but many virtual health platforms are amplifying the effectiveness of coaching by offering a medium to engage through video, text, and voice. This has created an environment to affect behavior change through a personal touch, while driving an expanded level of engagement in a scalable manner. Virtual platforms are allowing consumers to engage with specialists and multi-functional teams that would have otherwise been difficult to implement through historical approaches.
Device Monitoring: To effectively manage chronic conditions, virtual platforms have combined digital applications with hardware to support the longitudinal management of an individual's condition. Creating an integrated approach between application and device increases the frequency of engagement, provides a mode for effective monitoring and clinical escalation, and supports data collection for outcomes tracking. These integrated systems are being utilized across conditions. For example, diabetes applications are being combined with blood glucose meters, and sleep and MSK platforms are using device sensors for immediate feedback and tracking. This approach is proving valuable when reporting value back to employers and payers.
Virtual Care: Consistent with other segments of the healthcare market, telemedicine in the employer market has long been a desired benefit but one that went underutilized. According to a 2019 Mercer study, employee utilization of telemedicine benefits averaged just 9%. In the same Mercer survey, more than half of employers said their organization was concerned over the level of depression, anxiety, and job-related stress in the workforce. In an effort to address, 49% of those employers contracted for enhanced EAP services and 37% implemented tele-therapy solutions within the last two years. Telemedicine providers and virtual health platforms are forging important partnerships (case in point: the Teladoc / Livongo merger mentioned above) as they both play an important role in many episodic and longitudinal moments of care. We expect to see these providers play an increasingly important role in employer strategies for cost containment.
Evaluating Return on Investment
Employer expectations on value creation from vendor platforms has evolved meaningfully over the past several years, and while ROI can be presented through many forms, employer expectations have been heightened. Michael Laquere from EHIR commented, "The combination of technology and human interventions is changing how employers think about ROI and is creating momentum to explore at-risk pricing models and performance guarantees that promote better outcomes for their employees." Some key factors employers evaluate include:
Employee Engagement: Are my employees engaging with the solution and would I find advocates in those that are? Is long-term engagement high, indicating platform stickiness with employees?
Hard and Soft Dollar ROI: Am I getting a quantifiable return for my dollar spent (e.g., lower health care costs, lower absenteeism, improved productivity, etc.) and is it objective?
Benefits Differentiation: Is this a differentiated solution as part of my benefits package to improve retention / recruitment?
Virtual health platforms are helping push the envelope on validating the impact their solutions are having on employee populations. The incentives in the employer market are becoming more apparent, as clinical outcomes data is showing more promise as well as a strong value proposition around non-clinical metrics (e.g., reduced absenteeism, productivity). As the market continues to evolve on reporting value to the employer and ROI becomes more and more of a focus, these companies are some of the best positioned – many with validation from the FDA, several validating their solution through clinical trials, and nearly all with a strict focus on data and analytics to track and report on outcomes.
TripleTree and TTCP are closely tracking virtual health in the employer market as leading platforms are being rapidly adopted and driving significant value for employers, employees, and investors.

Stay safe and healthy and as always, let us know what you think.
behavioral health, Home Care, Home Health, Telehealth, telemedicine, virtual health