The Rapidly Evolving Genetic Testing Market
The genetic testing market is sustaining remarkable growth as it plays an increasingly important role in the healthcare industry, even serving as a catalyst to make better healthcare decisions. Payers, providers, and consumers are all finding ways to benefit from and manage the 75,000 genetic tests available in the market across 10,000 unique test types. Through this phase of rapid growth, the market continues to mature, expand, and support our desire for a more personal healthcare experience driven by better data. This blog post dives into the increasing activity across the genetic testing continuum from selecting, ordering, interpreting paying, and treatment selection, which is fueling opportunity for various market participants to get more out of the healthcare system.
 
Genetic testing is the process of evaluating genes, chromosomes, or proteins to learn about a patient's health. Tests can confirm or rule out the existence of a condition, assess the risk of developing a disease, and help determine a person's likelihood of passing on a genetic disorder to offspring. Simply put, a genetic test gathers personalized health information about individual patients which enables preventative care and precision medicine to yield better health outcomes for individuals.
 
For purposes of describing the market, we divide the genetic testing market into five categories: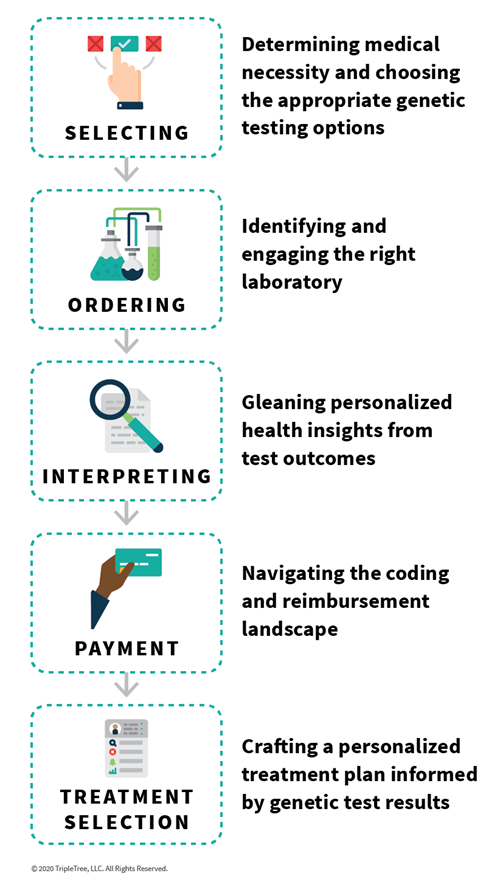 The Genetic Testing Market is Advancing and Showing Promise
The genetic market has advanced significantly in the last two decades. The first whole genome was sequenced in 2003 after 15 years of work from 20 different labs at a total cost of more an $3 billion. Today, consumers can pay around $1,000 for their own sequenced genome thanks to advancements in machine learning and artificial intelligence.

Today, the genetic testing market has advanced to serve as a catalyst for making better healthcare decisions. Genetic tests are an indispensable enabler of precision medicine, allowing clinicians to evaluate and mitigate risks by pursuing the most promising clinical course of action. This capability, which starts with selecting the appropriate genetic test(s), could make a profound impact on patient outcomes and the cost curve by preventing downstream care episodes. This includes unnecessary emergency care and ensuring gene therapies, which can cost millions of dollars, are utilized appropriately. Further, genetic testing influences care utilization by identifying existing conditions and risks of potential future conditions, enabling the right care to be delivered at the right time.

Market size and other statistics
Industry sources estimate the market will grow to $25 billion in global size by 2025, increasing 12% CAGR. The number of available tests has grown to over 75,000, and 10 new tests are created each day on average.

In order to sustain this growth trajectory, the genetic testing market needs more regulatory oversight, reimbursement/coding focus, physician education, and counseling resources. Today, 20-30% of tests are inappropriately billed, in no small part due to the oversimplified coding environment. With minimal regulation and few standards in place, the market is producing a wide range in the quality and accuracy of the thousands of U.S. testing providers. Further complicating the market, most primary care doctors generally do not have the expertise to recommend tests or asses patient test results given the lack of genetic test training they received in medical school and professionally. Genetic counseling expertise is in short supply. According to the Genetic Counselor Workforce Working Group, there are under 5,000 certified genetic counselors in the U.S., which equates to one counselor for every 77,000 people in the country. In an era of consumerism, the market has an opportunity to better support individual patients in this market with more personal health information and with answers to their questions.

Where Do We See Opportunity?
A number of opportunities exist for test providers, counselors, and services and technology vendors to better support payers, providers, and consumers across the genetic testing continuum.
Selecting – Opportunity for improved standards and prior authorization. The genetic testing space is relatively unregulated, allowing many tests to enter the market without extensive proof of effectiveness, driving high variability genetic testing efficacy. Enhanced health plan policy development, processes, and procedures around identifying appropriate genetic tests could streamline the selection process.
Ordering – Opportunity for better network management. Inconsistent clinical and billing practices plague the market, creating additional complexity and billing reviews for payers, providers, and patients.
Interpreting – Opportunity for a greater role for genetic counselors to provide expertise and standards. Interpreting genetic results is complex and not always straightforward, requiring certified genetic counseling experts trained to take into consideration a person's medical history, family history, and the type of genetic test that was rendered.
Paying – Opportunity for payment integrity solutions to further address significant levels of fraud, waste, and abuse. With just a few CPT codes to cover thousands of genetic tests, a large number of claims are believed to be coded inaccurately and/or candidates to be flagged for fraud, waste, and abuse.
Treatment Selection – Opportunity for physicians and managed care organizations to utilize optimal treatment for better health and cost-effectiveness. Genetic testing can provide crucial information to enable better care and less waste, especially as it relates to gene therapies which can cost hundreds of thousands or even millions of dollars. For example, Spinraza is a gene therapy used to treat spinal muscular atrophy and costs $750,000 in the first year of treatment and $350,000 annually thereafter. Information yielded from genetic testing is critical to understand whether Spinraza will be effective. Furthermore, genetic test results help identify appropriate patients for clinical trials, offering patients exposure to innovative new therapies and adding value as a partner to pharma companies.
We believe the genetic testing market presents a significant opportunity for all healthcare constituents to get more out of the U.S. healthcare system. From bending the cost curve to enabling consumers with more personalized health information, the genetic testing market is at an exciting inflection point. We are watching closely to see how this market evolves as a rapidly growing segment of the healthcare industry. Let us know what you think.