Healthcare Services Insights
Since the start of the COVID-19 pandemic, TripleTree has been examining areas of healthcare well-positioned for innovation, disruption, and growth amidst the onset of the pandemic (see our multi-part series on virtual health and the new normal for care delivery). In this blog, we explore the durable medical equipment (DME) market and emerging growth and innovation opportunities. Prior to pandemic, the DME market was beginning to experience momentum with increased M&A and investment activity, including Integra Partners' acquisition by Tufts, StateServ's recapitalization by Blue Wolf Capital, StateServ's combination with Hospicelink, and AeroCare's investment by SkyKnight Capital. We believe this momentum will accelerate as the leading DME providers have proven to be resilient during this unique and unusual time in healthcare.

While the DME market may not have been "in vogue" for some investors over the past 10+ years due rate cuts resulting from CMS's DME Competitive Bidding Program, several tailwinds are converging to create a highly attractive market environment for investors, buyers, and innovators:
Growth in Aged and Chronic Populations: An aging U.S. population is causing a massive increase in high-risk, high-cost patients that require DME and related services (e.g. education and training on how to properly use the equipment and supplies).
Shifting Care to the Home: While COVID-19 caused some short-term disruption, the pandemic is reinforcing the value of the home as a valuable and preferred clinical setting, and the post-acute market, including the DME arena, will experience accelerated, long-term growth as seniors, now more than ever, prefer to age in place.
Increased Reimbursement Stability: CMS recently revamped the competitive bidding program with key structural changes that industry constituents broadly anticipate will materially stabilize reimbursement and may result in a net positive rate adjustment during the next round of bidding in 2021. Amidst the COVID-19 pandemic, CMS also recently announced that non-invasive ventilators would be excluded from the 2021 round of competitive bidding.
Fragmentation and Under-Investment in Technology: Historically, generous reimbursement created a DME market with thousands of small providers with little to no technology capabilities or solutions. Leading DME distribution platforms are capitalizing on the attractive M&A roll-up opportunity and investing heavily in technology to drive efficiency and differentiation. In addition, several tech-enabled innovators have entered the market in recent years, creating new patient-friendly tech-enabled DME solutions.
Looking Ahead: Opportunity for Innovation
Beyond strong market tailwinds, there is a compelling opportunity for DME providers to enable a broader set of care and monitoring activities in the home. This opportunity stems from a unique combination of attributes that leading DME platforms can leverage:
Advanced logistical capabilities and technology adoption: One of the core capabilities of traditional DME platforms is delivering, installing and training the patient to properly use various pieces of equipment and supplies in the patient's home, sometimes on very short notice. Leading platforms that have invested in technology are well-positioned to expand these capabilities due to the increased efficiency, quality, and access to data that proprietary technology can drive. StateServ Medical, a leading DME benefit management and cost containment platform for the post-acute market, since its founding has invested in a proprietary workflow automation, reporting, and analytics platform to optimize operational, clinical, and financial performance for its clients. This proprietary technology platform has enabled the business to drive continuous, data-driven improvements across delivery service levels, re-delivery rates, fleet safety, and patient satisfaction. In addition, the Company is pushing the industry forward on next-gen capabilities like real-time machine learning models to enable predictive ordering based on patient diagnoses, symptoms, and demographics.
Frequent, consistent touchpoints with patients in their homes: Depending on the underlying patient condition, DME providers may be in the patient's home over 12 times per year, creating a trusted, longitudinal relationship.
Strategic connection point between clinicians and patients: DME providers are a key connection point between clinicians and patients, enabling unique care coordination and engagement opportunities.
We are beginning to see leading companies in the space leverage these attributes to wrap complementary services around their foothold in the home, and there are many opportunities for continued expansion as the market evolves.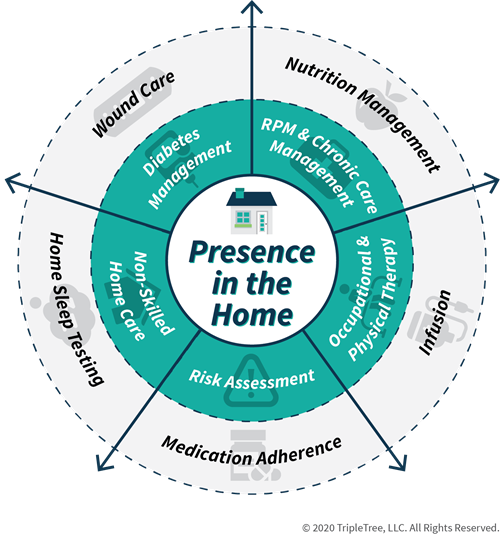 Flurry of Market Activity & Innovation
On the back of these market tailwinds and the increased importance of home-based care, we have seen an uptick of DME M&A and investment activity. In recent months, we've noted increased investment in scaled and regional DME players, technology platforms driving innovation, and DME providers expanding their service capabilities in the home. The following transactions highlight the aforementioned themes coming to fruition in the past 12 months:
AeroCare received a growth investment from SkyKnight Capital: In October 2019, SkyKnight Capital invested in AeroCare, a national, tech-enabled DME distribution platform focused on patients with chronic respiratory conditions. AeroCare has differentiated itself through strategic investments in its proprietary integrated technology platform focused enhancing operational workflows and information transparency to drive growth, margins and care quality. AeroCare has a strong history of rapid organic and inorganic growth.
AdaptHealth IPO and Favorable Performance: In Q4 2019, AdaptHealth, a national provider of respiratory therapy and other home medical products, debuted in the public markets after being acquired by a SPAC sponsored by Deerfield Management. Since its IPO, AdaptHealth has traded up nearly 60% on the back of broader industry tailwinds and multiple acquisitions.
Solara Medical Supplies Acquired by AdaptHealth: Solara Medical Supplies, a provider of diabetes management solutions, was acquired by AdaptHealth in May 2020. The acquisition represents a significant addition to AdaptHealth's product portfolio and signals an ability and desire for DME providers to extend their reach further into the home.
Reliable Medical Supply Acquired A&A Medical Supply: In April 2020, Reliable Medical Supply, a provider of respiratory therapy, mobility, and other home medical equipment, acquired A&A Medical Supply, a complex rehab technology provider. The acquisition expands Reliable Medical Supply's reach into Ohio and Kentucky. Reliable Medical Supply is a portfolio company of Seven Hills Capital.
Independent Living Specialists Acquired by The Riverside Company: In April 2020, the Riverside Company invested in Independent Living Specialists, a home medical equipment provider in Australia. The business offers a wide array of DME and HME via its online channel and its 20+ brick-and-mortar locations.
Spiro Health Created and Backed by New Spring Capital: In April 2020, New Spring Capital backed the merger of three regional sleep and respiratory therapy providers to create Spiro Health. Spiro has operations in 7 states across the northeastern United States.
DASCO Acquired by Silver Oak Services Partners: In March 2020, DASCO, a regional provider of respiratory and sleep therapy products, was acquired by Silver Oak Services Partner. DASCO was founded in 1987 and operates 14 locations across 4 states.
Parachute Health Streamlines DME Operations: Parachute Health is an Insight Venture Partners backed provider of DME management software. Parachute's solution is offered to DME providers, who traditionally have underinvested in technology, and enables e-Prescription, online ordering and billing, and other workflow management solutions. This cloud-based solution replaces legacy processes which are primarily paper-based and prone to error, increasing operational efficiency.
Tomorrow Health Receives Seed Funding: Tomorrow Health, a startup founded in 2018, is a new company aiming at improving access to home medical equipment. The business was founded by former executives from Casper and Oscar Health and is seeking to use technology to streamline the home medical equipment purchasing process. The seed round was led by Andreessen Horowitz.
TripleTree and TT Capital Partners continue to track the DME market closely and expect to see waves of innovation, investment, and M&A in the coming years as constituents capitalize on this unique market opportunity. Let us know what you think.
DME, Durable Medical Equipment, Home Health, Hospice